Cuts fears despite growth forecast for UK manufacturing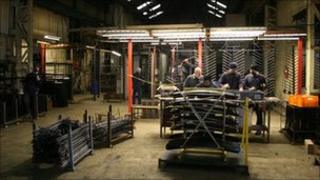 A fifth of UK manufacturers fear they will be hit hard by spending cuts in 2011, despite forecasts that the sector will outperform the economy as a whole.
The Engineering Employers Federation (EEF) is predicting growth of 3.5% within manufacturing, compared with 2.1% across all sectors.
But an EEF poll of more than 500 firms showed one in five were still worried.
Official figures showed that the UK's manufacturing output grew by 0.6% in October, the fastest pace since March.
Manufacturing output was up by 5.8% in October 2010 from a year before, the Office for National Statistics said.
Lee Hopley, chief economist at EEF, said manufacturing had delivered its best performance for 16 years in 2010.
She said mechanical engineering firms and metal products producers were expected to perform particularly well in 2011 because of expected high demand in export markets.
"Manufacturing now looks set to be at the heart of the rebalanced growth the economy needs with sectors most exposed to international markets likely to post the highest growth," Ms Hopley said.
"But there are continuing risks to growth both here and abroad. To maintain momentum the government must keep its foot down on policies to accelerate growth."
Ms Hopley said her organisation hoped the government would use the Budget on 23 March to demonstrate its continuing "resolve to clear away obstacles to growth".