Royal wedding: Pubs to stay open longer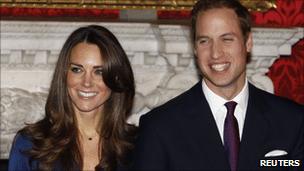 Pubs in England and Wales will be able to stay open longer for the royal wedding, the Home Office has confirmed.
Landlords will be able to extend their opening hours up to 0100 BST across two nights without needing permission from local licensing authorities.
Prince William and Kate Middleton are due to get married at Westminster Abbey on Friday 29 April.
Home Office minister James Brokenshire said the marriage was "an occasion for national celebration".
He said the "modest relaxation" of the licensing hours would allow alcohol to be sold in pubs and clubs and also permit live and recorded music, dancing, plays and films to continue until 0100 BST on 29 and 30 April.
Brigid Simmonds, chief executive of the British Beer & Pub Association, said: "This is great news, and it is really good to see the government recognising that this is a brilliant opportunity for us all to get together in the pub, to celebrate a great national event.
"With state-of-the art TV, great food and hospitality, pubs will be right at the heart of the royal wedding celebrations, and are the perfect place to enjoy the day."
The royal wedding will be marked with a public holiday across the UK.
The couple got engaged while on holiday in Kenya in October, with the prince proposing with his mother Diana's diamond and sapphire engagement ring.
They will be married by the Archbishop of Canterbury before returning to Buckingham Palace in a glass carriage along Parliament Square, Whitehall, Horse Guards Parade and The Mall.
The couple are expected to make the traditional appearance on the Buckingham Palace balcony before heading inside for the reception.
There will then be a private dinner and dancing in the evening.
Prince William and Miss Middleton met when they were both students at St Andrews University.
The Royal Family and the Middletons will pay for the wedding itself, but the taxpayer will meet the cost of extra security and transport.
Licensing laws for England and Wales are the responsibility of the UK government, but are devolved to the administrations in Scotland and Northern Ireland.
The Home Office has launched a two-week consultation on the plan.