Paul Gascoigne 'to sue News of the World for hacking'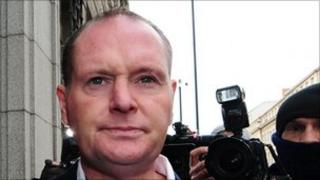 Former England footballer Paul Gascoigne is set to sue the News of the World for allegedly hacking his telephone, his lawyer has confirmed.
Gascoigne's solicitor, Gerald Shamash, told BBC Radio 5 Live he was also initiating proceedings against a private investigator, Glenn Mulcaire.
Mulcaire and former News of the World royal editor Clive Goodman were jailed in 2007 for hacking phones.
Actress Sienna Miller has since claimed breach of privacy and harassment.
The Observer says legal action is also set to be launched by top jockey Kieren Fallon, and other celebrities, including comedian Steve Coogan and TV presenter Chris Tarrant are also considering following suit.
'Couldn't understand'
Mr Shamash claimed to know that Gascoigne's name was "on lists" of people believed to have been targets for hacking.
"We are about to issue these proceedings and will be getting full disclosure of precisely what has happened when, who was hacked and by whom in due course," he told the BBC.
The lawyer said the former footballer had held suspicions for some time that he might have been a victim.
"He couldn't quite understand how people knew things... which he thought were private," he said.
Gascogine has battled alcoholism since quitting football and in December was given a suspended prison sentence for drink driving.
Mr Shamash said his client was in a "vulnerable mental state" and his recovery had been affected by the trauma of believing his phone had been hacked.
"For Paul, of course, it's well-documented he has been doing all he can to get his life back on an even keel, and if ultimately, people have been making a profit from him, we would want to see some redress.
"Whether he has been taken advantage of I don't know, but he could well be perceived as vulnerable, and it could well be that these weaknesses are actually being compounded by some of the issues that may be a result of tapping.
"If you're having private conversations and then those private conversations are spread across newspapers, it doesn't help you."
Case reopened
A spokeswoman for News of the World said the paper would not be making any comment.
On Friday, the Crown Prosecution Service announced it was going to review all the material held by police about phone hacking at the News of the World.
Their decision is thought to be prompted by legal action launched by Ms Miller in which the actress has accused the paper of hacking her telephone, claiming breach of privacy and harassment.
The decision by the CPS to reopen the investigation into the phone hacking allegations is seen as politically sensitive because the News of the World's editor at the time - Andy Coulson - is now David Cameron's communications chief.
Mr Coulson quit the newspaper in 2007, saying he took responsibility for the scandal - despite not being aware, he said, of what was going on.
Earlier this month, detectives asked the newspaper for information after it suspended one of its news editors.
So far four alleged phone hacking victims have reached out-of-court settlements claims against the newspaper.
They include celebrity publicist, Max Clifford, who received a reported £1m payout from the paper.
The News of the World has always claimed that Goodman was the only reporter involved in hacking.
He intercepted voicemails left for aides of Prince William and was eventually jailed for four months. Mulcaire was also jailed for six months on the same charge.