Review could see Prince William's daughter as Queen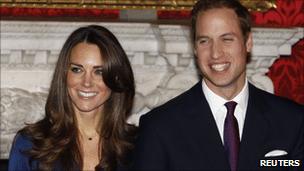 Changes to the law on succession to the throne, which would give any daughters of Prince William the same rights as his sons, are being considered.
Under the Act of Settlement males take precedence but this could change as part of a widespread review.
Work began in 2007 on amending the Act, which bans Roman Catholics from the throne, the Cabinet Office confirmed.
Legislation in the 15 Commonwealth countries where the Queen is head of state would also need amending.
A Cabinet Office spokesperson said: "Amending the Act of Settlement is a complex and difficult matter that requires careful and thoughtful consideration.
"The government accepts that the provisions in the Act of Settlement could be discriminatory.
"Discussions have started with those Commonwealth countries who would be directly affected by any change in the rules, and are continuing, but it would not be appropriate to release details at this stage."
Prince William and Kate Middleton are to marry at Westminster Abbey on 29 April.
The Cabinet Office's comments come after Labour MP Keith Vaz called for the Act to be modernised to bring the monarchy in line with other royal families in Europe.
He said the forthcoming marriage meant it was "the right time" to reopen the issue. His Succession to the Crown Bill was given an unopposed first reading in the Commons on Tuesday but it stands little chance of becoming law because of a lack of parliamentary time.
Related Internet Links
The BBC is not responsible for the content of external sites.