Yves Saint Laurent perfume 'drug simulation' ad ban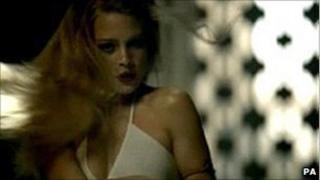 An Yves Saint Laurent (YSL) perfume advert has been banned for appearing to show a woman simulating drug use, the Advertising Standards Authority said.
The TV advert for Belle D'Opium showed a woman running her finger along the inside of her forearm and lying on the floor as a voiceover said: "I am your addiction. I am Belle D'Opium."
It prompted complaints from 13 viewers who said it simulated drug use.
YSL said its research showed consumers had not interpreted the ad in that way.
The company also said it had not intended to use drug imagery.
The Advertising Standards Authority (ASA) said it was concerned that the image of the woman running her finger down her inner arm could be interpreted as the injection of opiates into the body.
The ASA also said it was concerned that the image of the woman moving in a series of short, rapid scenes, before the advert concluded with her body seizing upwards while lying on the floor, could be seen to simulate the effect of drugs on the body.
The ASA ruling stressed that it did not see any problem with the perfume being named after opium, saying it was a well-known designer brand.
'Circle of life'
But it said of the advert: "While we noted the consumer research found that most viewers did not consider the ad to be offensive, we nevertheless considered the woman's actions simulated drug use, and therefore concluded it was irresponsible and unacceptable for broadcast."
The ASA ruled that the advert must not be broadcast again in its current form.
The company said that the advert clearly displayed the fragrance bottle and YSL name, and the character Belle appeared to be a healthy, vibrant woman expressing her sexuality.
It said the gestures that prompted criticism - the character pointing to her inner elbow and running her finger along the inside of her forearm - represented "the circle of life, the flow of energy in Belle's body and a sense of life being given out of the earth".