Twitter and e-mail use in Supreme Court allowed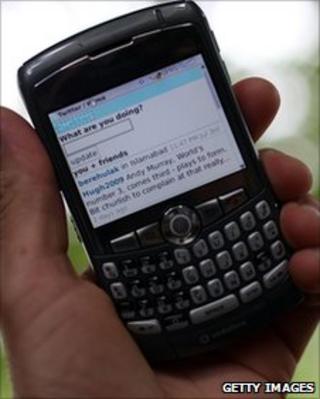 Tweeting is to be allowed from hearings at the highest court in the UK, new Supreme Court guidance states.
Supreme Court justices are "content" for journalists, the public and legal teams to use "live text-based communications" in courtrooms.
The guidance was issued because cases before the court do not involve witnesses or jurors.
But it is limited to the Supreme Court and considerations apply to other courts for various legal reasons.
Live text-based forms of communication, such as e-mails and microblogging via social media platforms like Twitter, are to be allowed in the court because there is rarely any reason why what is said should not be placed immediately in the public domain.
Confidentiality
Lord Phillips, president of the Supreme Court, said the "rapid development" of communications technology brought with it "both opportunities and challenges for the justice system".
"An undoubted benefit is that regular updates can be shared with many people outside the court, in real time, which can enhance public interest in the progress of a case and keep those who are interested better informed," he said.
"We are fortunate that, by the time a case reaches the Supreme Court, there is very seldom any reason for any degree of confidentiality, so that questions about what should and should not be shared with those outside the courtroom do not usually arise."
He said this meant that text communications could be permitted, as long as the "smooth running of the court" was not disrupted.
However, a statement announcing the guidance pointed out that "important exceptions" remained.
These will include cases where there are formal reporting restrictions in place, family cases involving the welfare of a child, and cases where publication of proceedings might prejudice a pending jury trial.
Those attending such cases will be informed that restrictions are in place.
In December, the Lord Chief Justice for England and Wales ruled that tweeting from court would be allowed as long as the judge believed it would not interfere with the administration of justice.