Are cuts really 'destroying big society' concept?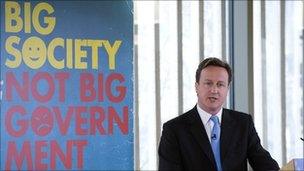 The head of a leading charity has said the government's spending cuts are "destroying" volunteering and undermining its "big society" vision.
But what do others in the voluntary sector think of this criticism?
When David Cameron announced the "big society" in Liverpool last July, the prime minister said his vision would be a "big advance for people power".
His idea was one in which community groups would be able to run post offices, libraries, transport services, shape housing projects and, as a consequence, have more control over their destinies.
But, some six months on from his announcement, the vision is under fire.
Dame Elisabeth Hoodless, the outgoing executive director of Britain's largest volunteering charity, told the Times "massive" council cuts would make it harder for people to do more in their communities.
Dame Elisabeth, who is retiring from the Community Service Volunteers (CSV) after 36 years, said: "We know we need to save money, but there are other ways of saving money without destroying the volunteer army."
She said the government should set targets for the numbers volunteers and suggested ministers had misunderstood how much responsibility volunteers were willing to take on.
Dame Elisabeth said volunteering should be introduced as part of national curriculum projects in schools and she backed a US idea that ties the funding of public bodies with the number of volunteers recruited.
Her comments come the week after Liverpool City Council's leader wrote to the prime minister withdrawing the city from plans for it to be a "big society" pilot project, claiming that cuts were undermining the voluntary groups supposed to take over some of the services.
Vibe, a project based in Queen Mary's Hospital, in Sidcup, London that drew on contributions from 357 volunteers last year from people aged between 16 and 25, is one of many schemes nationwide that will be axed as a result of the cuts.
Funded through a national youth volunteering organisation called 'v', it has provided a vehicle for hundreds of young volunteers to work on various tasks at the hospital over the last 11 years.
Fiona Anderson, a 22-year-old psychology graduate currently working at the hospital as a full-time volunteer overseeing young people who give their time for free, said the decision to end funding in March meant hundreds of youngsters will miss out on the skills and confidence that come with volunteering at the hospital.
"It's very rewarding - patients and young people benefit from it," said Fiona, who said her own experience of volunteering had provided a grounding for a potential career dealing with mental health issues or youth work.
"Volunteers deliver tea and coffee, they work in the garden here and they spend a couple of hours talking to patients. One volunteer started a buddy project working with young people with learning difficulties."
She said the contribution of the volunteers' time far outweighs the funding costs to keep the project going, adding that bleak job prospects for young people meant such schemes were a valuable source of workplace experience.
Amanda McLean, chief executive of the Institute of Fundraising, agrees with concerns about the compatibility of the "big society" with the coalition government's programme of cuts.
"The government needs to look again at some tensions that may exist in the short term between their "big society" and their localism agenda," she told BBC News, although she stressed that it was "fantastic that the government is recognising the amazing contribution made by the charitable sector".
She said the government, in its own Green Paper, had acknowledged that "too many charities are very dependant on state funding and making the transition from state funding to diverse sources of income takes time and can't happen overnight".
Cabinet Office Minister Francis Maude has attempted to allay funding fears by saying a £100m transition fund will be made available to help charities hit by austerity measures.
He said the fund would be "getting money out of the door and into the hands of voluntary organisations just in the forthcoming months".
He also told the BBC's Radio 4 World at One programme: "You've got to bear in mind that three quarters of voluntary organisations get no funding from the state at all so they are not going to be damaged by the cuts in council spending."
Some commentators have suggested that the prime minister's "big society" vision lacks clarity.
Perhaps uncertainty over what the "big society" actually is lies behind the ideological differences it exposes.
Councillor David Burbage of Windsor and Maidenhead, one of the three remaining "big society" pilot project areas, said he did not believe the concept was "necessarily underpinned by public funding", arguing that it was simply a term that refers to the process of building on existing voluntary schemes.
The Conservative councillor cited a number of local schemes that he said did not require government funding; such as a litter collection project, the online publication of council income and expenditure to improve transparency, as well as a leaflet campaign highlighting the voluntary organisations that people could participate in with advice on how to get involved.
"A lot is happening already, it's just about expanding on it. It doesn't necessarily need handouts from the tax payer to work. It just works," he said.
"We don't want to make these organisations dependent on government money - it's 'big society', not big government."
Sixty years older than Fiona, 82-year-old Marion Monahan seems to be a case in point.
The grandmother-of-seven from Bristol has volunteered in many guises for decades, most recently helping at local botanical gardens.
"People who volunteer see it as a pastime, not an obligation," she said, arguing that the mindset of such people who give their time for free had nothing to do with government funding.
"It's a job they chose to do, not one they have to do. None of these things will stop, but there will be more volunteers available when many people find themselves made redundant.
"People who are in their forties and want to try something new will use volunteering as a way to get experience and make connections, so it's not all doom and gloom for the voluntary sector of society."
The starkly differing perspectives of Marion and a woman more than three times her junior may hint at the challenges that lie ahead for a prime minister trying to find a place for everyone in his "big society".
Related Internet Links
The BBC is not responsible for the content of external sites.