Charity slams government Asbo replacement orders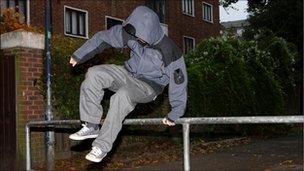 New plans to tackle anti-social behaviour will still demonise young people, a children's charity says.
Bob Reitemeier, chief executive of the Children's Society, said government plans were a "missed opportunity" and seemed to be "a rebranding exercise".
But the Criminal Justice Alliance, which represents more than 50 organisations, backed the changes.
Proposals include the creation of new behaviour orders and the abolition of Anti-social Behaviour Orders (Asbos).
The plans - which include a new Criminal Behaviour Order which can be attached to a criminal conviction, and a Crime Prevention Injunction aimed at stopping anti-social behaviour before it escalates - are part of a government consultation on anti-social behaviour.
A Home Office spokeswoman confirmed that troublemakers could face the same asset seizure powers, potentially to be employed on other criminals, under the new orders. They could have personal items, such as music systems, confiscated.
Graham Beech, strategic development director of crime reduction charity Nacro, said: "It is not necessarily the measures which sound tough and make the news headlines, like confiscating iPods, that will make the real difference.
"We need a sophisticated response, which acknowledges the complexity of the problem we're dealing with."
Mr Reitemeier said the plans were "a missed opportunity to adopt a more effective approach for dealing with children and young people who are deemed to be anti-social".
"Rather than continue to demonise children and punish them without addressing their behaviour, there is an urgent need to develop real solutions that make a genuine difference to children, families and communities," he said.
But Crime Prevention Minister James Brokenshire has defended the proposals, calling them "a radical streamlining".
He said there were "important differences" between the old and new measures, describing the latter as "an effective toolkit to deal with anti-social behaviour - one that is quick, practical, easy to use and provides a real deterrent to perpetrators".
Asked about taking away iPods and and other belongings, he went on: "We want to ensure that, if there are sanctions and measures for people who break the law, who go to court, who receive those punishments, that there are effective teeth to them".
Jon Collins, director of the Criminal Justice Alliance, welcomed the plans, but added: "Locking people up for breaching a civil order is neither effective nor proportionate, and the final proposals should ensure that custody is not used inappropriately."
The Association of Chief Police Officers (Acpo) also backed the plans, while Victims' Commissioner Louise Casey said the proposals "put tough enforcement action against perpetrators at the centre".
A key part of the plan is to overhaul Asbos, which were introduced in England and Wales under Labour Prime Minister Tony Blair in 1999.
They were aimed at banning an individual from engaging in specific kinds of behaviour or going to certain places.
Breaching an Asbo could result in a criminal punishment of up to five years in prison, but the measure was criticised by some for being ineffective and seen as a badge of honour among offenders.
Labour argued while Asbos may not have been perfect, they were working well.
Shadow Home Office minister Vernon Coaker said: "Overall, crime fell dramatically, anti-social behaviour became less of a problem and confidence with respect to the police increased. So there was very real progress made."
He also said the main factor that had made a difference to anti-social behaviour over the past 10 years had been neighbourhood police teams on the streets and working with local communities.
Current plans for "savage cuts" to policing numbers would damage that work, he added. Labour says more than 10,000 police officer posts will be gone by the end of next year, although ministers dispute those figures.
The public consultation on the new proposals runs until 3 May.
The coalition also wants to compel police to investigate incidents that are reported by at least five people - known as the "community trigger".
Correction 8 February: This story has been amended to clarify that only one charity said the government's plans would continue to demonise young people.
Related Internet Links
The BBC is not responsible for the content of external sites.