Legion: MoD needs to 'help us help' veterans at risk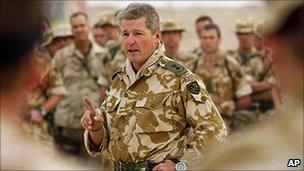 The British Legion has called on the MoD to hand over personal details of soldiers leaving the forces so that they can be helped into civilian life.
The director of welfare for the Royal British Legion said the Ministry of Defence was using the Data Protection Act as "an excuse" to not do more.
Sue Freeth said with the right details, they could prevent vulnerable former soldiers from falling into lives of crime, drug and alcohol abuse.
The MoD said it had to respect privacy.
Mrs Freeth said the MoD needed a policy shift to enable the legion to step in and help former soldiers without waiting for them to ask for assistance.
"I think if government were more willing to accept that then I think we could actually help them, be there and connect them to the right organisations more quickly as they leave, then they wouldn't fall through the gap. I think at times they use the Data Protection Act as an excuse."
In a statement, the MoD said it was willing to share data but "it must be in a way that complies with our legislative obligations on data protection".
Mrs Freeth made her comments to Panorama in a specially authored edition of BBC Panorama.
Col Collins' moving speech to his troops on the eve of the Iraq war in 2003 earned him national recognition.
He said the desire to help veterans was widespread and there were hundreds of charitable groups doing their best, but there were cracks showing.
Col Collins said: "There is no real co-ordination and there's considerable duplication. The danger is that the message will get through that there is no longer a need - there is need, there's great need."
In addition to the legion's concerns, Col Collins called upon local authorities to employ veterans' welfare officers to help those returning home to find housing, employment and medical treatment.
The charity Combat Stress said the rates of post-traumatic stress disorder among veterans who have seen active service were about 4% and the rate of alcohol problems is 13%.
Panorama: Forgotten Heroes, BBC One, Wednesday, 9 February at 2100GMT and then available on the BBC iPlayer.
Related Internet Links
The BBC is not responsible for the content of external sites.