UK Guardian journalist 'expelled from Russia'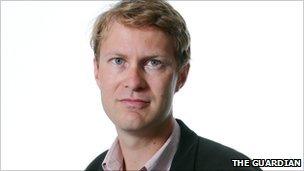 A British journalist who reported on Wikileaks cables containing criticism of Russia's leadership says he has been expelled from the country.
The Foreign Office said it was seeking "clarity on this decision".
Mr Harding wrote on his Twitter page: "Russia has expelled me from Moscow. Stopped at pass control, put in a locked cell and deported. No explanation given."
The Guardian said he had flown to Moscow at the weekend but was denied entry, held in a cell for 45 minutes and had his passport returned only after boarding a plane back to Britain.
The paper reported his visa was annulled and a security official told him, "for you Russia is closed".
It said his expulsion followed several incidents of harassment amid official disapproval of his coverage.
The head of the Russian foreign ministry's consular department, Andrey Karlov, said: "I have not heard [the reasons]. I cannot answer this question."
Editor Alan Rusbridger said in a statement published on the newspaper's website: "This is clearly a very troubling development with serious implications for press freedom, and it is worrying that the Russian government should now kick out reporters of whom they disapprove."
A spokesman for the Foreign Office said: "We have been in contact with the Russian ministry of foreign affairs, including through a call from the foreign secretary, to seek clarity on this decision. We are awaiting a reply."
The chairman of the Russian Union of Journalists, Vsevolod Bogdanov, criticised the decision and said: "I have very hard feelings about what happened. The Guardian has great authority in the world and its journalists work according to the code of ethics and preserve their reputation.
"That is why I do not like all this," Bogdanov told the Russian Interfax news agency.
There have been tensions between the UK and Russia since the 2006 murder of Kremlin critic Alexander Litvinenko in London.
In December, a diplomat was expelled from Russia's embassy in London for espionage and Russia responded in kind.
Related Internet Links
The BBC is not responsible for the content of external sites.