Church debates BNP ban for clergy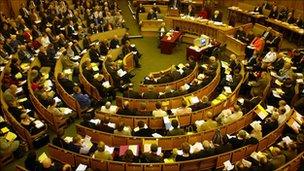 The Church of England is to debate draft legislation banning clergy from supporting the British National Party.
The law would make it "unbecoming" or "inappropriate" for clergy to be members of parties whose race equality policies were at odds with the Church.
The ban was proposed by a lay synod member who works for the police, Vasantha Gnanadoss.
In 2009 the Synod voted overwhelmingly in favour of the measures.
At the time Ms Gnanadoss said a membership ban would send a clear message against racial prejudice to the public at large.
Robert West, the BNP's religious affairs spokesman, said: "I don't think the Church has got legal authority to do this and it would be in breach of the law.
"The Church cannot discriminate against citizens on the basis of their political affiliations if the party is legal. The Church cannot challenge the law of the land."
Mr West said of his own sermons: "I expand on the scriptures and sometimes they have something to say to politicians but I would not say vote for the BNP or don't vote for the Conservatives.
"I might say it out of the pulpit but I would make it clear people were free to disagree with me," he added.
Related Internet Links
The BBC is not responsible for the content of external sites.