Petrol price rise protesters lobby chancellor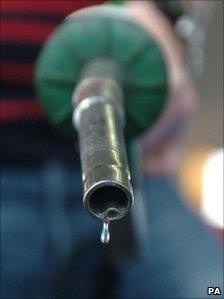 Protesters have gathered in Whitehall to call on the chancellor to curb rising petrol prices.
Led by motoring journalist Quentin Willson, the FairFuel UK campaigners, including hauliers, motorists and business people, handed in letters to George Osborne and all his fellow MPs.
The letters urged him to scrap a planned April fuel duty rise of 1p a litre and to stabilise fuel prices.
Mr Osborne has said he is considering the planned April rise.
Last month, the cost of a litre of unleaded petrol rose to almost £1.30 because of high global oil prices and the VAT hike to 20%.
Fuel duty already costs 58.95p for every litre of petrol.
The FairFuelUK campaign has the backing of the Road Haulage Association (RHA), the Freight Transport Association, the Fuel Card Company and the RAC, as well as other businesses.
Campaign organiser Peter Carroll said some MPs had already lent their support and were saying the problem was becoming "a crisis".
He said abandoning the fuel duty rise would be a start but a long-term solution was needed.
Geoff Dunning, of the RHA, said the recovery of the economy and its future was reliant on stable fuel prices.
And RAC motoring strategist Adrian Tink added: "The chancellor needs to show he understands the pain that UK drivers are feeling at the pumps - and that means scrapping the April fuel duty rise as a tangible statement of intent."
But environmentalists say the government should be looking at the challenges of climate change as well as rising fuel prices.
Richard Dyer, from Friends of the Earth, said this must include greener cars, better public transport, encouraging walking and cycling for shorter journeys - and "standing firm on plans to increase fuel duty".