Andy Gray and Richard Keys move to Talksport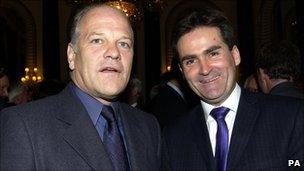 Former Sky Sports football presenters Andy Gray and Richard Keys have moved to radio station Talksport.
The pair's tenure at the satellite TV sports channel ended after they made controversial off-air remarks about a female assistant referee.
Mr Gray was sacked and Mr Keys resigned after the comments were broadcast, prompting a row over sexism.
They will host a three-hour show from Monday to Friday on the commercial speech station.
The row that led to their departure from Sky Sports followed comments by the two presenters about the presence of female assistant referee Sian Massey.
Believing their microphones were off, the two men agreed female officials "don't know the offside rule".
Following the move to Talksport, Mr Gray - a former footballer - said it was an "ideal opportunity" to "do what we do best, and that's talk about sport".
And Mr Keys said it was "the start of something new and exciting".
Related Internet Links
The BBC is not responsible for the content of external sites.