David Cameron accused of U-turn over military covenant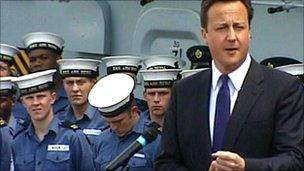 The Royal British Legion has accused the prime minister of going back on his word to set in law a military covenant between the nation and its troops.
The charity's head Chris Simpkins also criticised the "watering down" of other plans to enhance support for troops.
Last June, David Cameron indicated the covenant - a promise of a duty of care in return for sacrifices made - would be set out in legislation.
Ministers deny a U-turn and say they are doing all they can for forces.
The criticism comes as an organisation representing service personnel and their relatives warns of what it calls a tidal wave of low morale in the Army.
During a visit to HMS Ark Royal last summer, David Cameron told personnel he wanted to make formal commitments to them on matters like education for military children and care for troops injured on the battlefield.
"I want all these things refreshed and renewed and written down in a new military covenant that's written into the law of the land," he said.
But Mr Simpkins said the new Armed Forces Bill did not fulfil that promise - and instead, would require the Ministry of Defence only to publish an annual report on the covenant.
He said it was a "serious backward step" and "something of a U-turn".
In its current form, he would not support the bill through parliament, he added.
The bill does not include a clear definition of what the covenant is, nor is there any reference to a duty of care. Instead it states the covenant report should detail how being a member of the armed forces affects healthcare, education and housing for them and their families.
Mr Simpkins, who will give evidence to the Armed Forces Bill Select Committee on Wednesday, also said the draft legislation reduced the role of an external body whose job it was to monitor the implementation of the covenant.
"The proposals have been significantly watered down to a point where we can't entirely support them," he told the Times newspaper.
Armed forces minister Nick Harvey denied there had been any U-turn, saying the covenant was being written into the Armed Forces Bill.
"For the first time we are actually defining the covenant and what it means," he told BBC Radio 4's Today programme.
Meanwhile, another charity, the Army Families Federation (AFF), says it has been inundated with outraged messages following a tightening of the rules on the continuity of education allowance (CEA).
The CEA enables military families, who are often on the move, to claim boarding school fees of up to £5,833 per child per term, but the rules on who can apply have been changed.
It is claimed by 5,500 military personnel, fewer than 3% of total service personnel, costing the MoD £180m a year. The government says the changes in the system would save £20m a year.
But the AFF says it has received 2,000 complaints by e-mail in five days over the cuts, including some from soldiers expressing a sense of betrayal.
One read: "People have their backs to the wall and have no way of defending themselves. Pay freeze, loss of child benefit, tax increases, cost of living increases, the continual pressure of contemporary military life, allowance cuts, changes to CEA entitlement (or worse); when will it end?
"The government has directed that the armed services will be cut. They need to be made aware that they may end up with no armed service left at all!"
Julie McCarthy, chief executive of AFF, said: "For many families, including ourselves, there's a substantial personal contribution but all of these costs are not going down, the demands are not going down but the allowances are."
She said if her 11-year-old son was not at boarding school, he would have attended five different schools by now.
The effects of cutting allowances were leading some to consider quitting, she said.
The government points to a recent rise in the operational allowance for those on the front line, but also says it is having to make savings right across the board.
Mr Harvey said: "The Liberal Democrat manifesto included a commitment to increase military pay and to accelerate the programme of improving housing.
"Now, of course, if we were in a more benign financial climate it would have been possible to make progress on both those things and I deeply regret that it has not been possible to. But the fact of the matter is the country is in a huge financial crisis.
"Sadly it's a hard truth that we have had to make reductions to allowances. Nobody should be surprised it's having an impact on morale."
Minister for Defence Personnel Welfare and Veterans Andrew Robathan said: "We are doing everything we can to ensure that the support we provide to them is focused on the most important areas, given the current financial situation."
Shadow defence secretary Jim Murphy said the annual report was nothing like the legally binding covenant the government promised.
"To make bold pledges while in opposition and ignore them once in power demonstrates a disregard for the whole forces community, who will be deeply disappointed," he said.
Meanwhile, the British Legion has also called on the MoD to hand over personal details of soldiers leaving the forces so that they can be helped into civilian life.
Director of welfare Sue Freeth said with the right details, they could prevent vulnerable former soldiers from falling into lives of crime, drug and alcohol abuse. The MoD said it had to respect privacy.
BBC News website readers have been sending in their e-mails on this issue.
I feel so let down by the government right now that I had to write in. I am an army wife of 30 years and my husband has been away on numerous tours throughout our married life. The current cuts to the benefits for the Forces has really disgusted me. I keep hearing that the government is increasing the Operational Tour bonus, does this mean that the government only appreciates the Forces while they are away on tour? All the build-up to a tour and all the other work they do means nothing obviously. The cuts hit all families very hard and as a wife of 30 years I have a lot of experience with moving around and bringing up two children and I am, as stated really angry, and I am sorry to say that my husband is so disgusted with all of this that he has now signed off. Anon, Cyprus
Once again a new government has got in to power on the back of broken promises. For those of us in the military we have seen a cut in take-home pay (not a pay freeze), an attack on our pension scheme (against the charter) and basically a complete betrayal by this government. When the economic climate improves they need not worry about compulsory redundancies as experienced personnel will be leaving in droves. But let us remember "we are all in this together". J Winfield, Nottingham, UK
I'm constantly amazed that anyone in the army is surprised when they get dumped on by government. Haven't you people realised you're nothing more than cannon fodder? They made a big PR issue of upping other perks to soldiers when they came into power. It should surely have been obvious that they would pay for that by taking it away from you elsewhere! Hilary Adams, London, UK
Related Internet Links
The BBC is not responsible for the content of external sites.