Mountain rescue teams win battle over VAT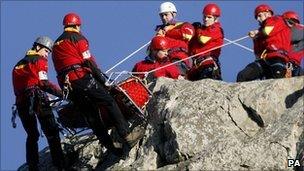 Mountain rescue teams across the UK appear to have won a long-running campaign to reclaim the VAT spent on equipment.
The Chief Secretary to the Treasury, Danny Alexander, told the House of Commons money had been put aside to help the volunteers with their costs.
He said the money would be available from April and a detailed announcement would be made shortly.
Mountain rescue volunteers have long said they deserve to get a VAT break.
They also believe they should not have to pay car tax on mountain rescue vehicles.
BBC political correspondent Arif Ansari said it was against EU law to directly refund VAT.
But he said it appeared the government had found a way around the rules and had earmarked money in October during the Comprehensive Spending Review.
The Treasury has confirmed it is an important issue for Danny Alexander, whose constituency in the north of Scotland is a busy area for mountain rescue teams.
Last year, search and rescue teams in Cornwall and Devon called for an exemption for them and the other 60 teams.
They said they require £20,000 a year in donations to keep them operational and pointed out the cost of paying VAT on kit was eating into their funds.
A Treasury spokesperson said at the time that zero-rated specialist equipment and VAT-free medicine and equipment were available.