UK newspapers unimpressed with higher bank levy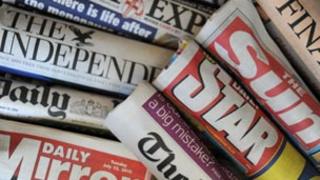 "Nothing good will come from ministers instructing private companies how to run their business."
That's the Financial Times' verdict on the government's increased banking levy - a measure it says is just the latest in a series of "puffing demands that are little more than cosmetic".
The Times also thinks the levy "may be good politics, but it is poor policy".
But the Sun feels George Osborne "would have been entitled to give [bankers] an even bigger kick in the pants".
'Bankrolled'
Ministers might be keen to make the City pay, but it is the City that pays for them, according to research suggesting that 50% of Tory donations come from the financial sector.
Both the Guardian and the Independent use the figures for their front page lead, saying they show the City is "bankrolling" the Conservatives.
At a time when the cuts are hitting people hard, the Daily Mail asks: "How can it be right that Britain's ruling party depends for most of its donations on the clique that suffered least?"
'Supergran'
Pensioner Ann Timson, who attacked a gang of armed robbers with her handbag, is hailed a hero in all the papers.
The CCTV footage is "a sight to gladden the eyes", says the Daily Express.
"The streets would clearly be much safer if everyone followed in grandmother's footsteps," it adds.
Labelling her "Supergran", the Daily Mirror takes a political swipe by claiming that her "swinging handbag did more for real society than David Cameron's Tory spin ever will".
'Steely glint'
The face of Margaret Thatcher - or rather, the actress Meryl Streep looking uncannily like her - appears on several front pages.
She will play the Iron Lady in a film released later this year.
The Daily Telegraph says Streep has certainly achieved the "trademark hair and distinctive expression".
The Daily Mail agrees - noting that the "steely glint" in her eye is "pure Thatcher" - but it wonders whether the film will be a "Left-wing hatchet job".