Warning on debt website confusion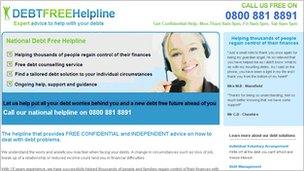 The Office of Fair Trading (OFT) has warned consumers and local authorities about "lookalike" debt help websites.
They say some confused consumers may think they are dealing with charities offering free advice.
Some councils in England have mistakenly promoted a fee-charging debt management service, DebtFreeHelpline, instead of charity National Debtline.
DebtFreeHelpline said it had not been misleading about charges but was in the process of changing its trading name.
The OFT's Ray Watson says that is one example among many it had found of lookalike websites.
Mr Watson, the OFT's Director of Consumer Credit, says there is evidence of "people using names to suggest, for example, that they were the Citizens Advice Bureau.
"We don't accept that behaviour and we will take action against businesses that do that."
After a BBC investigation all but one of those contacted removed weblinks to DebtFreeHelpline.
Typing 'National Debtline' into a search engine in early February returned www.debtfreehelpline.co.uk as one of the first results in a list of ads.
But while National Debtline is a charity offering free advice to people in debt, DebtFreeHelpline charges a fee for setting up debt management plans.
The OFT has warned about websites likely to be confused with official or charity sites.
An investigation for BBC Radio 4's The Report found several local authorities and other public bodies had mistakenly published DebtFreeHelpline's web address instead of that of National Debtline.
Harrogate, Southend, Westminster, Bournemouth and Mid Devon councils had all promoted the wrong website, as had Broxbourne Housing Association and Oxford Radcliffe Hospitals NHS Trust.
National Debtline's Chief Executive, Joanna Elson said she thought some of DebtFreeHelpline's claims were misleading.
"I certainly am concerned about the statement 'expert and independent advice is available' because I'm just wondering how it can be independent when actually this is a company that's trying to sell debt solutions," she said.
DebtFreeHelpline said it was "independent" from creditors or debt collection agencies but, while not accepting that the term was misleading, it had removed it from its website.
National Debtline say it is not the first time web users searching for their service have been confused by fee-charging companies using similar names.
"We refer them to the Office of Fair Trading every time and some of them have been closed down by the OFT," said Joanna Elson.
"But if you talk to people at the OFT they will say they simply haven't got the resources to keep on top of them the whole time."
Ray Watson from the Office of Fair Trading said he would investigate the DebtFreeHelpline case but admitted the internet was challenging to monitor.
"We took action in the last fortnight against another one that actually used 'helpline' in its title," he said.
"There are a whole range of things out there and we don't have endless resource so we have to target where we think we can have the most impact."
All but one of the councils and public bodies the BBC contacted, who carried the incorrect web address, apologised for their error and removed the incorrect web address.
Mid-Devon council did not remove the web address, stating that DebtFreeHelpline "offer initial advice on debt free of charge. If somebody then wishes to go further and avail themselves of a paid-for service, that is their decision".
DebtFreeHelpline said they had also contacted local authorities to point out the error.
In a statement they said:
"We are in the process of changing our trading name, which is a step we are taking despite the absence of any client complaints."
Government spending cuts mean that organisations that give free debt advice, like the Citizens Advice Bureau, are coming under pressure just as demand is rising due to the economic climate.
As Simon Gompertz reported, 500 specialist debt advisers across England and Wales have stopped taking on new cases, after the government said it would axe financial support provided through the Financial Inclusion Fund.
Related Internet Links
The BBC is not responsible for the content of external sites.