Met finds more potential phone hacking victims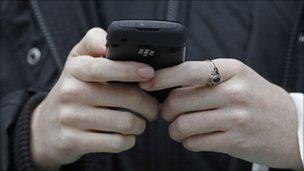 Police investigating claims of phone hacking from 2005 have found more potential victims in police files.
They found "links" while reviewing the files from the conviction of a News of the World royal editor and new evidence from publisher News International.
They said they were taking urgent steps to notify people who had previously been told that police had "little or no information" about them.
There was no evidence yet that voicemail had been hacked, police said.
Former deputy prime minister Lord Prescott said he met detectives at Scotland Yard on Wednesday and was told they had "significant new evidence" relating to his claim that he was a victim of phone hacking.
He said in a statement: "I can confirm that at her request I met Deputy Assistant Commissioner Sue Akers today.
"She informed me that significant new evidence relating to phone hacking and myself had been discovered and that they were investigating it.
"I think this proves my long-held belief that the original Met police investigation into [private investigator Glenn] Mulcaire and News International was completely inadequate and failed to follow all the evidence.
"I now look forward to the Met Police finally uncovering the truth."
BBC political correspondent Ross Hawkins said that for Lord Prescott the development was proof he had been correct in his suspicions, but added that the police had much more investigating to do.
The force has been accused by a number of public figures of failing to carry out thorough inquiries in the past, and launched a fresh inquiry last month after receiving new information.
Scotland Yard said the possibility of voicemail hacking "will be an important and immediate new line of inquiry".
"As a result detectives are taking urgent steps to advise [the individuals] of this development at the earliest opportunity. If any others are identified as possible victims in due course they will also be contacted," it said.
Scotland Yard said the specialist crime directorate Operation Weeting "have been able to make some links not previously identified" after reviewing the files and evidence.
"The team have also identified some individuals who were previously advised that there was little or no information held by the [Met Police] relating to them within the case papers and exhibits and this is now being reviewed."
A police spokeswoman said any potential victims wanting to use police evidence in a civil case would be shown the evidence but it would not be handed over.
Associated Press reported that thousands of people were involved.
Deputy Assistant Commissioner Akers said: "Until I am satisfied that we have validated the data we are re-examining I am not prepared to discuss any of the numbers involved, but I intend to make this information public at the earliest opportunity.
"This is clearly a major task with a considerable amount of work to be done which will take a significant amount of time and resources."
Police will also make contact with victims whose phones "we already have reasonable evidence to believe may have been hacked".
A spokeswoman for News International declined to comment.
In January 2007, Mulcaire and royal editor Clive Goodman and were jailed for six months and four months respectively.
Claims that phone hacking was widespread continue, and more and more celebrities and public figures have launched civil legal actions against both the paper and the police.
The Goodman and Mulcaire case first revealed several public figures had been hacked.
Two of them - Gordon Taylor and Max Clifford - brought private cases against the News of the World and received reported settlements of £700,000 and £1m respectively. The cases were settled before key documents were revealed in court.
Related Internet Links
The BBC is not responsible for the content of external sites.