Baptism language to be simplified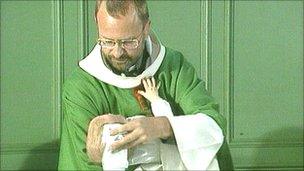 The Church of England is to simplify the language for baptism ceremonies.
The Archbishop of Canterbury, Dr Rowan Williams, admitted to a sense of "eyes glazing over" during some services.
The General Synod, the Church's national assembly, voted to back a Liverpool Diocese motion calling for more accessible text to be available.
Dr Tim Stratford, from Kirkby, Merseyside, said it was not a request for "christenings without Christianity".
Around 139,000 babies are baptised every year by the Church of England.
The diocese has singled out three passages during the Common Worship baptism - the Decision, the Prayer over Water and the Commission - which particularly baffle non-churchgoers.
Dr Stratford said: "The text does matter. You cannot make EastEnders out of Shakespearean tragedy without changing the language."
Dr Williams told the debate: "I find myself very much in sympathy with this motion. Like most of those who have spoken, I too, have a sense of the wordiness of what we have and a slight feeling of eyes glazing over."
"It is not, I think, solely as a result of my delivery," he added.
Anne Martin, from Guildford, Surrey, said: "It is essential that parents and families can feel comfortable with the words of the baptism service.
"It is not good if they are alienated or don't connect with the central words of the service, they won't come back."
Reverend Christian Selvaratnam, from York, did not support a "baptism lite" but added: "I feel that the current liturgy is too inflexible."
But the Reverend James Dudley-Smith, from Yeovil, Somerset: "Sometimes when you add to things, you lose rather than gain."
He said the current wording of baptisms was "splendid and solid".
Mr Dudley-Smith said changing it would be like adding Liverpool footballer Steven Gerrard's voice to an old Beatles song.