Festival crash pilot was tired, say investigators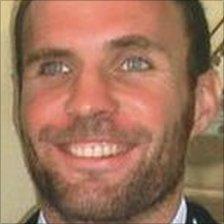 Investigators looking into the death of a stunt pilot say he told friends he was feeling "a little tired" before he crashed his plane into a field.
Chris Penistone, 31, was killed at an air show in West Yorkshire last June.
A report by the Air Accident Investigation Branch (AAIB) said he had departed from his usual aerobatics routine.
And the investigators said he "may have been affected by fatigue and life stresses".
The AAIB report said Mr Penistone was an experienced commercial pilot who worked for the airline Jet2.
But the accident happened in his time off as he was flying a one-seater stunt plane in an air display as part of a festival at Methley Bridge Boatyard, near Castleford.
Mr Penistone, from Knottingley, was a member of a local flying club and his parents were watching his routine.
One of his manoeuvres involved putting his aircraft, an Extra EA300L, into a flat spin.
Witnesses told the investigators that he pulled out of the stunt too low and hit the ground, dying instantly.
The report said that a video of the accident showed that Mr Penistone had departed from the planned series of aerobatics.
And after performing two earlier displays that day he had told friends he was feeling a little tired, and that the wind had been making things difficult for him.
Only pilots who pass a demanding series of tests are allowed to perform stunts at air displays.
Mr Penistone had qualified to do the most difficult of stunts at his first assessment.
The report urged the aviation watchdog, the Civil Aviation Authority, to introduce a mentor scheme for newly qualified aerobatics pilots.
The CAA said that it was still considering the report and was actively considering such a scheme.
Related Internet Links
The BBC is not responsible for the content of external sites.