UK newspapers defiant over prisoner voting rights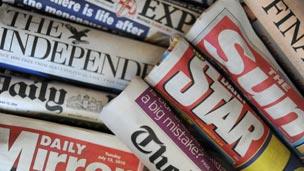 "Stand up for Britain's rights", demands the front page of the Daily Mail, ahead of a Commons debate later about voting rights for prisoners.
It is a "watershed moment" and MPs must make a stand or have their impotency confirmed, agrees the Daily Telegraph.
There is shock in the papers at the death of a woman from London after having surgery to enhance her buttocks.
"If God didn't bless you with a figure like Beyonce, this look is hard to achieve," she adds.
"This is little more than a charter for banks to carry on behaving exactly as they are at present," it says.
But David Wighton, in the Times, is a bit more optimistic and thinks that it should encourage small businesses seeking bank loans to try again.
"They may be surprised by the reception," he says, and feels that it would be a good thing if the deal brought an end to "bank bashing".
Most papers are fairly pleased with England's 2-1 friendly win against Denmark.
Related Internet Links
The BBC is not responsible for the content of external sites.