UK newspapers defiant over prisoner voting rights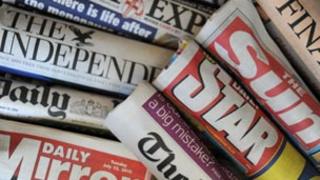 "Stand up for Britain's rights", demands the front page of the Daily Mail, ahead of a Commons debate later about voting rights for prisoners.
The paper wants the government to defy Europe on the issue, calling this a day of "great significance in the history of this sovereign nation".
It is a "watershed moment" and MPs must make a stand or have their impotency confirmed, agrees the Daily Telegraph.
The Daily Express calls it "a defining issue of the Cameron premiership".
'Peachy behinds'
There is shock in the papers at the death of a woman from London after having surgery to enhance her buttocks.
The Sun's health editor says "the desire for a 'big booty' has been fuelled by raunchy hip-hop videos of women shimmying peachy behinds".
"If God didn't bless you with a figure like Beyonce, this look is hard to achieve," she adds.
One doctor tells the Daily Mirror that injecting silicone into the buttocks is as dangerous as Russian Roulette.
'Bank bashing'
The Guardian is unimpressed with the government's bank deal.
"This is little more than a charter for banks to carry on behaving exactly as they are at present," it says.
But David Wighton, in the Times, is a bit more optimistic and thinks that it should encourage small businesses seeking bank loans to try again.
"They may be surprised by the reception," he says, and feels that it would be a good thing if the deal brought an end to "bank bashing".
'Honest trier'
Most papers are fairly pleased with England's 2-1 friendly win against Denmark.
The Daily Star thinks "England coped well in Copenhagen", and sings the praises of goalscorer Ashley Young.
The Independent thinks Wayne Rooney was a "peripheral figure" in the game and says manager Fabio Capello has warned him his place is no longer guaranteed.
The Sun, meanwhile, says new boy Jack Wilshere is an "honest trier", but unfortunately the only "spark of invention" came from Denmark.