Gurkha migrants 'leave services 'struggling'
By Angus Crawford
BBC News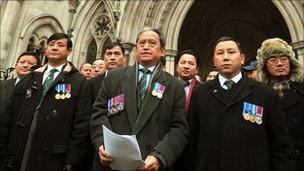 The arrival of thousands of Gurkhas granted the right to live in the UK has prompted fears that services are being "overwhelmed".
There are packets of spices piled up on the shelves at the Quality Superstore in the centre of Aldershot, in Hampshire.
There's a gentle hum of conversation in Nepali and CDs of popular music from that part of the world are on sale.
A group of old men, wrapped up against the cold, greet each other with a traditional bow, their palms clasped together in front of them.
All are former Gurkhas who served in the British army before 1997 and had retired to Nepal.
That was before the government changed the rules in 2009 and allowed them to settle in the UK.
BBC News has learned that since May 2009 more than 7,500 former soldiers and members of their families have been given visas.
It's not clear how many have come to the UK or how many may make the journey in the future.
However, many moved to Aldershot because of its links to the military and its established Nepali community.
Supermarket worker Janak Lal Hirachan, who was a Gurkha for 10 years, became a teacher when he returned home before moving to the UK in August 2009.
"In many ways, here it is better than Nepal," he says, although he adds that "it hasn't been easy".
"I've been managing to survive. I had thought life would be easier here, but in reality it was not so."
Former Gurkhas come to the UK for many reasons, he explains, such as educational opportunities for their children or health services.
However, many are in their 60s and 70s and unlikely ever to find work.
"They are in great need of housing benefit, pension credits. They're not capable of working themselves, they need instant help in order to survive."
To get those benefits they go to Rushmoor Borough Council, but the local authority now says it's struggling to cope.
Charles Chaudhary, the councillor with responsibility for community support, said the local authority welcomes Gurkhas but "we need the funding to welcome them, we don't have the money to cope with it".
He says the council is facing a funding cut from the government of £2.4m while simultaneously experiencing a "large" influx of Nepalese people.
He believes they now make up 10% of the population in the borough.
"It's putting a lot of pressure on social housing and the integration of the community."
Local MP Gerald Howarth has written to the prime minister to request more funding and warned that local services risk being "overwhelmed".
So far the council has received a £120,000 grant to help with translators.
"If the situation remains the same it will have a lot of effects on the borough as whole," Councillor Chaudhary concludes.
Anecdotal evidence suggests other services are being affected.
In Farnborough, just up the road from Aldershot, Dr Christine Marshall has 3,000 Nepalis on her list - a third of her patients - compared with several hundred five years ago.
A government spokesman said local authorities were responsible for "the way they allocate their social housing and for setting their own allocation policy priorities, within the framework of legislation".
Contributing to the debate, Chhatra Rai, general secretary of the British Gurkha Welfare Society, says there is a need to "recognise that significant numbers of the Gurkhas who have left Nepal have done so out of financial hardship - and have continued to struggle even when settled in the UK".
"This clearly means that there are still further questions to answer, both in terms of the proper provision for these veterans and how to reconcile their rights with the capacities of local services," he said.
At the Quality Superstore the old men are unaware of that debate.
They say their main concern now is getting visas for their adult children in Nepal to come to the UK to look after them in their old age.
Related Internet Links
The BBC is not responsible for the content of external sites.