UK company directors guilty over paying Iraq kickbacks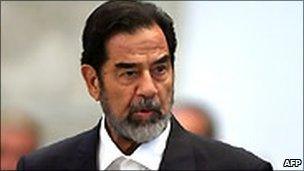 Two British businessmen have been convicted of making corrupt payments to Saddam Hussein's regime in a "shady deal" in 2001.
David Mabey and Charles Forsyth, both former directors of engineering firm Mabey & Johnson, were found guilty.
Southwark Crown Court heard they exaggerated the cost of supplying of steel bridges in order to provide "kickbacks" to the Iraqi government.
The company, which admitted breaching UN sanctions, was fined £5m in 2009.
Mabey, 49, from Burchetts Green, near Maidenhead, Berkshire, and Forsyth, 62, from Hook, Hampshire, will be sentenced on 23 February.
A third defendant, former sales manager Richard Gledhill, 64, from Watford, Hertfordshire, pleaded guilty and gave evidence for the prosecution.
Mabey & Johnson, which is part of the Monmouthshire-based Mabey Group, won a contract under the UN Oil For Food Programme, which was designed to alleviate the suffering of the Iraqi people.
But the court heard the company made a payment of 420,000 euros (£35,500) in order to secure the contract to supply 13 steel modular bridges.
It is not the first company to be prosecuted for breaking the UN sanctions on Iraq.
In December, the Glasgow-based engineering firm Weir Group was fined £3m for paying kickbacks to Saddam's government.
The judge in that case also confiscated £13.9m of illegal profits from Weir Group, the biggest ever made by a Scottish court.
Gledhill told the court he negotiated the contract with the Iraqi government and obtained approval from Mabey and Forsyth to make the payments via an agent.
'We have taken responsibility'
Mabey's solicitor, Stephen Gentle, said: "My client is surprised and profoundly disappointed by the jury's verdict today.
"He maintains he was personally unaware of any breaches of UN sanctions against Iraq within his company in 2000-01. He has instructed me to seek leave to appeal."
A spokesman for Mabey Bridge Limited said: "We recognise that the jury has heard the evidence and has taken its decision.
"As a company, we have already dealt with the issues in this trial, notably by pleading guilty to wrongdoing in a separate trial in 2009 and by paying a substantial financial penalty.
"We took responsibility for these issues, co-operated fully with the authorities and completed a profound renewal of our company and its ethical procedures and processes."
Mabey Bridge Ltd, which is based in Chepstow, employs 1,000 people in south Wales and Lydney, Gloucestershire.
The Bribery Act, which becomes law in April, is designed to make it easier to prosecute companies who make corrupt payments abroad.
Related Internet Links
The BBC is not responsible for the content of external sites.