Rape victims who retract claims face lower legal risk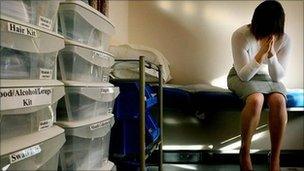 Victims who retract truthful allegations of rape are less likely to be prosecuted for perverting the course of justice, the director of public prosecutions has said.
Keir Starmer said the new guidance for prosecutors, open for consultation, was to protect people who felt real pressure or fear of violence.
Prosecutors have made recent changes to the way they handle rape cases.
People who make false allegations would still risk prosecution.
Since December changes have been made by the Crown Prosecution Service to the way it handles rape cases.
Last year a mother was sentenced to eight months in jail for withdrawing an allegation that her husband had raped her.
She was jailed not because the allegation was false - police believe she was raped - but because her retraction was false.
She was freed on appeal after 18 days by the Lord Chief Justice who said justice system had a duty to show compassion to a woman who had already been victimised.
Mr Starmer, calling for views on the guidance at the start of a 12-week consultation, said: "These are very difficult cases which need to be handled carefully and sensitively.
"Our interim guidance aims to protect individuals who retract a truthful allegation as a result of pressure or fear of violence, while taking a firm approach to those who make a malicious allegation against an innocent person."
The guidance says that prosecutors should be aware that victims of domestic violence may sometimes retract true allegations as a result of pressure or fear of violence.
And they should take particular care in "double retraction" cases that can happen where there is a background of domestic violence.
A double retraction is where a person makes an allegation and later says it was false. Then later, the person says the original allegation was true and the retraction was false.
The chief executive of charity Victim Support, Javed Khan, said: "The consultation is a really welcome move demonstrating that the CPS is taking the issue seriously.
"We must be careful not to create any new or bigger obstacles, either directly or indirectly, that stop victims of rape and domestic violence from coming forward and reporting."
Related Internet Links
The BBC is not responsible for the content of external sites.