Ronnie Biggs in hospital after suspected stroke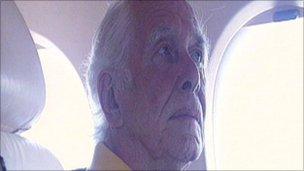 Great Train robber Ronnie Biggs has been taken to hospital after suffering a suspected stroke.
Emergency services were called to the 81-year-old's nursing home in Barnet, north London, at 1050 GMT.
His son, Michael, said he was conscious and preparing to have a CT scan and a series of other tests to determine what had happened.
Biggs was released from prison on compassionate grounds in 2009 because of health problems.
Speaking from Barnet General Hospital, Michael Biggs said: "We do not know if it is a suspected stroke or what it is.
"They are going to do a CT scan. He is conscious at the moment. The CT scan will find out whether it is to do with an infection or another stroke."
Biggs has suffered declining health since being transferred from prison to a care home in Bells Hill.
He first suffered a stroke in 1998 and has been admitted to hospital several times since returning to Britain in 2001.
Originally from Lambeth, south London, Biggs was among a 15-strong gang which attacked the Glasgow to London mail train at Ledburn, Buckinghamshire, in August 1963, making off with £2.6m.
The train's driver, Jack Mills, suffered head injuries during the robbery and never returned to work. He died in 1970.
Biggs was given a 30-year sentence, but escaped from London's Wandsworth prison after 15 months and went on the run for more than 30 years, living in Australia and Brazil.
He returned to the UK voluntarily in 2001 in search of medical treatment.