Soldiers' bodies flown home to UK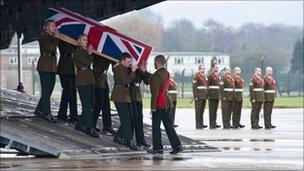 The bodies of two soldiers killed in Afghanistan have been repatriated.
Ranger David Dalzell, 20, from Bangor in County Down, was killed on Friday in an "operational accident" in Helmand province.
Warrant Officer Class 2 (Company Sergeant Major) Colin Beckett, 36, from Peterborough was killed the next day by a roadside bomb.
The family of Ranger Dalzell who was a Royal Irish Regiment (RIR) soldier said he was killed in a tragic accident.
The bodies of the two were flown into RAF Lyneham in Wiltshire and then passed through the nearby town of Wootton Bassett.
There have been claims that Ranger Dalzell may have been accidentally shot by a colleague as they cleaned their rifles.
His bereaved relatives said in a statement: "David died after being accidentally shot by another soldier, having returned to base from a patrol.
"We do not know exactly what happened, just that our son was fatally wounded.
"As well as our huge loss which has devastated the family, the other soldier must also be suffering and our thoughts are with him as well."
The Ministry of Defence has refused to be drawn on the circumstances surrounding the death and a spokeswoman said details of the accident would be heard during an inquest. An investigation by the army's Special Investigation Branch is under way.
Company Sergeant Major Beckett, who was known as Tom, was attempting to secure an area in Shaheed, a village on the Nahr-e-Bughra canal, when he was caught in a roadside bomb.
His wife Rachel is expecting their first child later this month.
He joined the Army more than 20 years ago and had been on deployments to Northern Ireland, Kosovo, Iraq and three tours of Afghanistan.
Mrs Beckett said: "Anyone whoever met or knew Colin 'Tom' would have been touched by him in a big way and he will never be forgotten.
"He was a fantastic soldier, a great son, a good brother and friend and a truly special husband."
She added that he was her "absolute world" and that his "love for life, strength, humour and strong character" would live on in his baby girl Freya.