Concerns over Briton Hisham Morsi missing in Egypt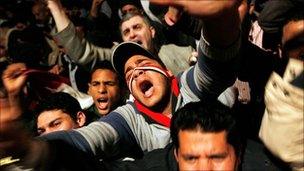 The UK Foreign Office (FCO) is "deeply concerned" about a Briton missing in Egypt and has demanded to know if the authorities there are holding him.
Foreign Office minister Alistair Burt said Hisham Morsi was last seen being removed from Tahrir Square on 31 January but it is unclear by whom.
The FCO said he is the only missing Briton it is aware of.
Demonstrators have been angered by President Mubarak's announcement on Thursday that he will not step down.
An FCO spokesman said: "Hisham Morsi is the only British national that we are aware of who is missing at the moment."
Mr Morsi, who is of dual British and Egyptian nationality, is understood to be about 50-years-old and based outside the UK, "probably in Cairo".
His family, who are also believed to live outside the UK, are receiving consular assistance.
"I call on the Egyptian authorities to urgently clarify whether Mr Morsi has been arrested, and if so, to inform our embassy of his whereabouts and provide our embassy with full and immediate consular access," Mr Burt said in a statement.
He said he had raised the case with Egyptian ambassador and the UK's embassy in Cairo was continuing to make representations to the authorities in Egypt.
The minister also said the Foreign Office had been given public and private assurances by the Egyptian government that no activists remained in detention.
Meanwhile, Egypt's military high council has promised to lift the country's 30-year state of emergency when the "current situation has ended".
The televised statement came as crowds gathered in the capital Cairo for fresh protests.
Crowds are gathering outside the presidential palace, Tahrir Square and the offices of state TV in the city.