New blue badge disabled parking crackdown in England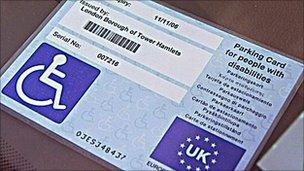 Disabled groups are welcoming a government crackdown on the widespread abuse of the "blue badge" parking scheme in England.
There are an estimated 2.5 million badges in circulation, allowing drivers to park on yellow lines as well as avoid parking and congestion charges.
The changes will see local authorities gain more powers to seize badges they think are being misused.
And tests for eligibility will be run by councils rather than GPs.
The scheme was introduced in the early 1970s but in recent years, concerns have grown that many of the badges are being used by people who are not disabled.
Now the Department of Transport says new badges will be printed with anti-fraud holograms.
And it said councils would get toughened "on the spot" powers to seize badges that were being misused.
Launching the scheme in London, Transport Minister Norman Baker said the measures were aimed at restoring credibility to the system.
"Local authorities have been swimming against the tide.
"Now we're giving them a lot more powers and we're going to end up with a new badge with many more security features."
The cost of the badges will rise, from £2 to £10. The minister said the extra money would cover the extra costs councils will face.
As well as being able to easily seize badges that are being used fraudulently, councils will oversee the testing of applicants - a process previously carried out by family doctors.
Officials said funds would be switched from the NHS to allow this to happen without local authorities facing an extra drain on their budgets.
Helen Dolphin, who co-ordinates policy for the disabled charity Mobilise, said she welcomed the announcement which she hoped would standardise the issuing of the badges.
"Some councils are using completely different criteria for issuing them" she explained.
"Which means that people with the same disability could get them in one area but not be allowed them in another."
And as a disabled person herself, she says she also welcomes the tightening of the rules from a personal perspective.
"I would be considerably less independent without the blue badge scheme."
Also at the news conference was Diana McCleary, a representative of a disabled group in Camden, north London.
"I seriously hope this system does get sorted out. I see a lot of abuse of the badges, but if you say anything, there's a risk of being attacked.
"It's very dangerous to approach anyone who's doing this sort of thing."
Related Internet Links
The BBC is not responsible for the content of external sites.