Amnesty condemns Guantanamo UK Shaker Aamer case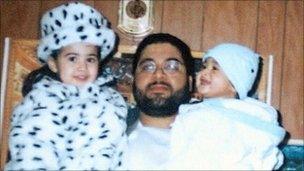 The continued holding of the last British resident at Guantanamo Bay is making a "mockery of justice", human rights campaigners have said.
Shaker Aamer, 43, will have been kept without charge at the US detention camp for nine years on Sunday.
Amnesty International has renewed calls for him to be tried or released from what the group calls his "cruel limbo".
Mr Aamer, who is from Saudi Arabia but lived in London, has a wife and four children who are all British.
Amnesty said thousands of its supporters had written to Foreign Secretary William Hague about the case, and that there could now be "light at the end of the tunnel" for Mr Aamer.
Amnesty International director Kate Allen said: "Currently all the signs point to heightened behind-the-scenes activity over Shaker's situation and it's vital that we say to politicians 'we won't rest until his case is fairly resolved'.
"Given the time involved, the lengthy spells in solitary confinement and the torture allegedly used against him, Shaker Aamer's plight has been one of the worst of all the detainees held at Guantanamo."
Mr Aamer was captured in December 2001 by the US, which claimed he was fighting with the Taliban, and moved to Guantanamo Bay in Cuba in February 2002.
Mr Aamer has alleged he was badly beaten and subjected to death threats in front of an MI5 officer and US intelligence officials under interrogation in Afghanistan in early 2002.
Related Internet Links
The BBC is not responsible for the content of external sites.