Unite union stages rally against youth service cuts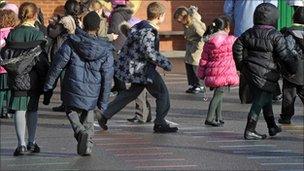 A campaign by the Unite union against "catastrophic" cuts in youth services has been launched with a rally.
The event in Solihull, West Midlands, comes as Unite warned that one in four youth services in England faced spending cuts of up to 30%.
The union said some councils, such as Norfolk, Suffolk, Bucks and Manchester, planned to cut the services completely.
The Department for Education said it was up to each council to decide where to target spending on youth services.
It said it wanted to see councils working more closely with community and voluntary groups "who often have a raft of expertise in how to create fun and affordable youth services".
"We have also seen some great examples of councils working in partnership with the private sector to design sustainable youth projects which benefit the whole community," said a spokeswoman.
A survey by Unite of more than 40 local councils suggested that youth services would be hit the hardest by reductions in government funding.
Some 1,000 people were estimated by organisers to have attended the event at the Renewal Conference Centre in Solihull, West Midlands Police said.
Young people from across the country took part in protest poster-making and protest song workshops, and listened to speeches from a range of speakers.
They included a 12-year-old from Prime Minister David Cameron's Witney constituency, who said he attended a youth club which was threatened due to the proposed cuts.
Nicky Wishart said: "I use it three times a week, which is a lot in a five-day working week.
"If it's closed I won't do anything - sit indoors, or hang around on the streets.
"I also use the local library which is also threatened with closure. I've got two younger brothers, one was born last Friday and one who is three, and both of them are never going to have a chance to know what a youth club is like."
Lynn Yates, 19, from King's Lynn, Norfolk, said youth services had helped her when she was homeless.
She said: "To think that they aren't going to be able to help other people is a scary thought.
"Last June I was homeless and by talking to people at a youth centre and Connexions I got referred to the YMCA and lived there for six months, and now I have my own flat."
The union warned of cuts of £100m from youth service budgets over the next year, with the loss of 3,000 jobs.
Doug Nicholls, Unite's officer for youth workers, said: "This is about young people and unions and youth workers and all those who support them saying the government will not cut and demolish the youth services and bring all the campaign together to make that a reality.
"The people here represent hundreds of thousands. This issue of youth services represents more people probably than students' fees and the EMA.
"There are many life-changing stories, not just crisis intervention but people whose attitudes and behaviour and understanding of the world has been transformed by youth work."
Asked if the government would listen to the young people, he said: "It is going to have to. They cannot abandon the nation's future. They will pay the price politically and economically if they do.
"Be careful what you cut: you reap what you sow," he warned.
The rally included a range of organisations as well as Unite, including Unison, the National Youth Agency and the British Youth Council.
Related Internet Links
The BBC is not responsible for the content of external sites.