Newspaper review: Papers embrace Mubarak resignation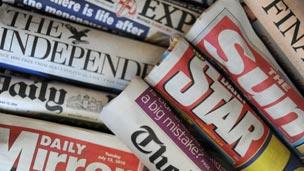 Correspondent Robert Fisk says "it was as if every man and woman had just got married, as if joy could smother the decades of dictatorship and pain and repression and humiliation and blood".
"History unfolds" is the headline in the Times. It suggests the toppling of Egypt's 30-year regime is "this generation's Berlin Wall moment".
One leading member of the youth revolution tells the paper: "Egypt will be heaven in 10 years".
It suggests "Britain's James Bonds have posted an online ad for a butler to serve up their vodka martinis".
The paper says applicants for the position of hospitality steward are urged to maintain the utmost secrecy when submitting their CVs.
The Foreign Office insists the role is essential in an organisation that has numerous VIP visitors.
It reports that dozens of listeners accused the show of product placement.
One of the characters seemed to be promoting Duchy Originals shortbread while talking about a visit to Ambridge by the Duchess of Cornwall.
A BBC spokesman tells the paper the reference was editorially justified and set the tone for the Duchess's cameo appearance on Wednesday.
Related Internet Links
The BBC is not responsible for the content of external sites.