Newspaper review: Egypt situation still on front pages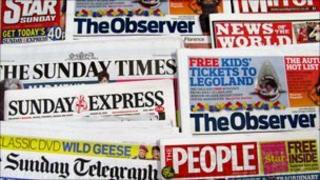 The situation in Egypt continues to make it onto the front pages.
The Independent on Sunday asks "key questions" - how did the protesters prevail, who runs the country now and will the peace with Israel hold?
The Sunday Telegraph reckons Hosni Mubarak moved what is described as his "vast wealth" into accounts overseas.
The Sunday Times suggests the Serious Fraud Office has begun looking at the possibility money could have been moved to banks in the UK.
Dormant accounts
Bank accounts may be about to assist David Cameron as he bids to relaunch his Big Society idea.
According to the News of the World plans are afoot to raise almost £270m from accounts that have remained untouched for many years.
Apparently the funds will be deposited in a Big Society bank and loaned to help start community schemes.
The Sunday Mirror has a rather different opinion, describing the project as a "Big (Con) Society".
Coalition cracks
The state of the government generally is analysed by Andrew Rawnsley in his weekly column for the Observer.
He finds some "flaws and faultlines" over the proposed sale of forests, the school building programme and giving some prisoners the vote.
Mr Rawnsley believes "most Tory and Lib Dem ministers are still rubbing along with each other all right".
But he thinks the coalition has a "big problem" when it comes to communicating with their own parties and the public.
Royal request
The Sunday Express reports that US researchers have asked the Queen for permission to exhume Henry VIII.
The king, whose body is buried at Windsor Castle, died aged 55 in 1547.
The scientists say they want to investigate the possibility that a rare mental disorder, known as McLeod's Syndrome, was behind his infamously ferocious temper which led him to have two of his six wives executed.
Knowing the king was mentally ill could "vindicate Henry in history", they say.