Banned UK reporter Luke Harding back in Moscow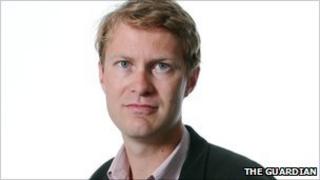 A British journalist barred from Russia last week after reporting on Wikileaks cables containing criticism of Russia's leadership has been allowed to return.
The Guardian newspaper's Moscow correspondent Luke Harding had reported on US cables describing Russia as a "virtual mafia state".
Authorities refused permission to re-enter the country citing administrative problems linked to his accreditation.
The move was condemned by the British government.
Moscow's foreign ministry had said he had broken media rules but could be re-admitted to the country.
Mr Harding told news agency AFP on Sunday that he was back in Moscow in an email. The Foreign Press Association said he returned on Saturday with a new visa and his accreditation was ready.
Last weekend, a Guardian article reported that Mr Harding was stopped from re-entering Russia and sent back to the UK.
'Not plausible'
Mr Harding wrote on his Twitter page: "Russia has expelled me from Moscow. Stopped at pass control, put in a locked cell and deported. No explanation given."
The Guardian reported his visa was annulled and a security official told him, "for you Russia is closed".
Foreign Office Minister David Lidington said the government "deplored" his expulsion.
The Russian Ministry of Foreign Affairs' information and press department said Mr Harding had "committed a whole series of breaches of the rules" governing the work of foreign correspondents.
But a Guardian spokeswoman said they were "baffled" by the Russian statement.
"Failure to collect his press card before leaving urgently on a trip to London is manifestly not a plausible reason for detaining Luke at the airport and refusing him entry to Russia," she said.
She said the expulsion was part of a "pattern of behaviour" by the Russians.
There have been tensions between the UK and Russia since the 2006 murder of Kremlin critic Alexander Litvinenko in London.
In December, a diplomat was expelled from Russia's embassy in London for espionage and Russia responded in kind.