British commander: Momentum in Helmand is 'shifting'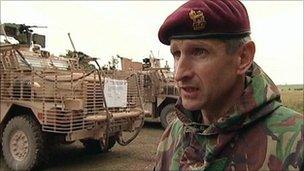 The tide is turning against insurgency in the Afghan province of Helmand, a British commander says.
Brigadier James Chiswell, head of UK forces in Helmand, told the BBC there was a sense of cautious optimism.
But he said it was too early to judge how successful the past few months had been until fighting during the summer had taken place.
Brig Chiswell said the momentum in Helmand was shifting, with the enemy under a lot of pressure.
He added that there was a positive feeling among his troops.
He said: "There's certainly a sense over this winter period that the insurgency is under a lot of pressure, but perhaps more importantly there's certainly a sense of growing local confidence to shake off the insurgency, and indeed to put their trust in the state."
British forces are also working in neighbouring Kandahar.
They have been on operations in the province since December, for the first time since 2006, helping to ensure security on Highway One - the main ring road in Afghanistan and a vital trade route.
During their first weeks they came under frequent attack from insurgents but soldiers on the highway said there had been been no further attacks for the past month.
However, BBC defence correspondent Caroline Wyatt says nobody is taking anything for granted and that Brig Chiswell said much hard work remained to be done.
Last month, the Evening Standard's defence correspondent Robert Fox told BBC Radio 4's Today programme there was the prospect of "decisive action" over the coming months.
He said: "Everybody realises there is something coming up this year, because of the hammer blows that they've been aiming at the Taliban, that it looks as if we're in for another spring and summer of really decisive and very heavy action."
Related Internet Links
The BBC is not responsible for the content of external sites.