Newspaper review: Papers give views on Big Society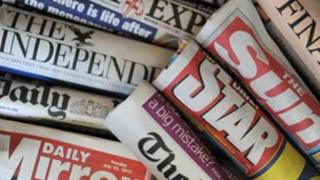 As David Cameron prepares to relaunch his Big Society initiative, the papers explain how they see the concept.
The Daily Telegraph thinks it might be simpler to say what it is not about, rather than focus on the caricature it has become.
In the Telegraph's view, it is not about volunteering - or not exclusively so - and it is not a cover for cuts.
For the Daily Mirror, however, it is an ideological smokescreen to obscure the wilful destruction of public services.
Pay and perks
A study showing that over 220 council executives earned more than the prime minister last year is widely reported.
The Daily Mail complains that while swimming pools and bin collections are axed, politically-correct non-jobs and pay and perks for executives and councillors remain untouched.
Their cynical aim? To embarrass the government, says the Sun.
It says the way some councils are going about deciding where to cut spending is a "politically-motivated disgrace".
Tight-lipped
Several papers go in search of former Egyptian president Hosni Mubarak in the Red Sea resort of Sharm el-Sheikh.
The Independent says tourists believe he is there, but armed guards at his winter palace were saying nothing.
However, a plain clothes officer told the Guardian's correspondent that Mr Mubarak was inside.
Staff at the hotel next door whispered confirmation to the Times that he was about, but said they had been warned not to discuss his presence.
Slice of history
A number of papers have a picture of the world's oldest complete wedding cake, baked 113 years ago.
The Daily Mirror says the icing has gone brown and there is a big crack in the side as a result of vibration from a World War II bomb.
But the rich fruit cake inside the ornate icing is still moist, it adds.
According to the Sun, the four-tier cake was displayed at a bakery until it closed in 1964 before ending up at a local museum in Basingstoke, Hampshire.