Newspaper review: Papers give views on Big Society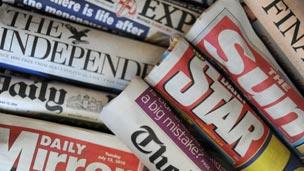 As David Cameron prepares to relaunch his Big Society initiative, the papers explain how they see the concept.
In the Telegraph's view, it is not about volunteering - or not exclusively so - and it is not a cover for cuts.
A study showing that over 220 council executives earned more than the prime minister last year is widely reported.
It says the way some councils are going about deciding where to cut spending is a "politically-motivated disgrace".
Several papers go in search of former Egyptian president Hosni Mubarak in the Red Sea resort of Sharm el-Sheikh.
A number of papers have a picture of the world's oldest complete wedding cake, baked 113 years ago.
But the rich fruit cake inside the ornate icing is still moist, it adds.
Related Internet Links
The BBC is not responsible for the content of external sites.