Gray and Keys return to broadcasting on Talksport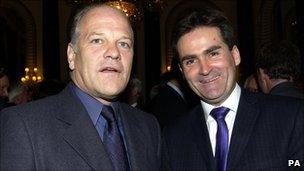 Football presenters Andy Gray and Richard Keys have returned to broadcasting after leaving their jobs at Sky Sports over a sexism row.
In their first three-hour Talksport radio show, Keys said: "It's nice to be back talking football."
The pair left Sky after they made controversial off-air remarks about female assistant referee Sian Massey.
In Monday's radio show they did not refer to the controversy which led to Gray's sacking and Keys's resignation.
Neither of the presenters offered an apology.
The former Sky Sports presenters avoided any controversy in the first hour of their radio show, sticking to football and focusing on Wayne Rooney's "wonder goal" for Manchester United on Saturday.
Ahead of their broadcast, in what will be a regular Talksport show, they appeared briefly on Alan Brazil's breakfast show.
Brazil, a former Tottenham Hotspur player, greeted Grays and Keys joking: "I never thought I'd see you here."
Keys remarked that he was looking forward to his new job, saying: "I can have an opinion, rather than just ask questions."
At the weekend Ms Massey returned to duty in the Premier League.
She was criticised by Gray and Keys in off-camera comments picked up on their microphones ahead of her appearance at the Wolves v Liverpool match last month.
But on Saturday she ran the line during the 1-1 draw between Blackpool and Aston Villa and was praised by Tangerines manager Ian Holloway.
He said: "She took the right decisions. I was confident in her. She is good at what she is doing."
Holloway also criticised some fans who taunted her: "I didn't like some of the shouts. Is that funny? 'There is only one Andy Gray'.
"That's rude, you have got to forget about all of that and get on with things, haven't we? I think we should let things lie in the past."
Related Internet Links
The BBC is not responsible for the content of external sites.