Bryson leads legal efforts over railway litter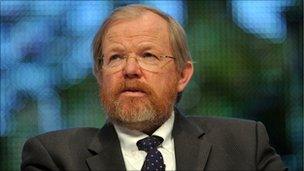 Green campaigners led by author Bill Bryson are launching legal efforts to get Network Rail to clear litter from England's railways.
The Campaign to Protect Rural England (CPRE) plans to use Litter Abatement Orders to make the rail infrastructure firm clear up certain sites.
Mr Bryson, CPRE president, said the railways were "particularly, persistently bad" for litter.
Network Rail said it tried to clear litter within 20 days of being alerted.
But the CPRE says it is "frustrated with the filthy state of many of England's rail stations, railways and sidings".
Among a number of CPRE campaigners planning to use the orders (LAO), Mr Bryson is pushing for litter to be cleared from alongside tracks in Cambridgeshire.
Other sites being targeted are: London Bridge station; St Austell in Cornwall; Hersham in Surrey; Ainsdale station on Merseyside; Clacton-on-Sea in Essex; Gravesend in Kent.
Mr Bryson said: "Network Rail has a legal obligation to clean litter and, in most places, as far as I can see, it's not just they don't do it often enough - they don't do it at all."
Pointing to bonuses totalling almost £2.4m for Network Rail's top executives last year, Mr Bryson said: "If they've got time to do that, I think it's not unreasonable for us to expect them to fulfill their legal obligation to provide a clean environment."
If no reasonable action is taken by public land managers within five days of notification, LAO can be sought from the courts.
"This is something that it's every citizen's right to do," Mr Bryson said.
"If you are confronted persistently with some sort of litter blight that you don't like, it is your right to take out a Litter Abatement Order."
He added: "Usually what happens is that it's the threat of the Litter Abatement Order that makes these duty bodies - as they're known, people who are responsible for public spaces - it's usually the threat of it that makes them finally get around to taking action."
In a statement, Network Rail said it was "surprised" by CPRE's plans to encourage the orders to be served on the company.
The firm was a supporter of the new anti-litter Love Where You Live campaign and, after holding a meeting with CPRE last year, Network Rail had asked to speak to the body again but not been given a date, it said.
The statement said: "As one of Britain's biggest landowners we remove thousands of tonnes of litter every year. If reported by the public, we aim to remove litter within 20 days.
"Our dedicated maintenance teams regularly remove litter as part of their day-to-day responsibilities and we work closely with our contractors and projects to keep the areas in which they are working free of litter."
Related Internet Links
The BBC is not responsible for the content of external sites.