Royal wedding: William picks brother Harry as best man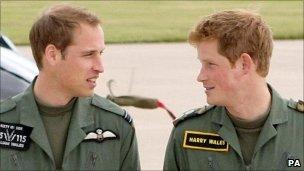 Prince William has chosen his brother Harry to be his best man at his wedding, while Kate Middleton's sister Philippa will be her maid of honour.
The couple will marry at Westminster Abbey on Friday, 29 April.
Among their four bridesmaids and two page boys will be two of Prince William's godchildren.
It is has also been announced that William, 28, and Kate, 29, will return to St Andrews University - where they first met - for an official engagement.
They will launch the university's 600th anniversary appeal on 25 February.
St James's Palace also revealed that Prince William has been named a patron of the appeal.
On 24 February, the couple will attend a naming ceremony for the Hereford Endeavour lifeboat at Trearddur Bay Lifeboat Station on Anglesey, where William is currently based as an RAF rescue helicopter pilot.
Seven-year-old Lady Louise Windsor, daughter of the Earl and Countess of Wessex, and eight-year-old Margarita Armstrong-Jones, the daughter of Viscount and Viscountess Linley, will both be bridesmaids for the royal couple.
The others, who are both only three years old, will be Grace van Cutsem, the daughter of William and Kate's close friend Hugh van Cutsem, and Eliza Lopes, the Duchess of Cornwall's granddaughter.
There will also be two page boys - 10-year-old William Lowther-Pinkerton, the son of Prince William's private secretary, and eight-year-old Tom Pettifer, the son of William and Harry's former nanny Tiggy Legge-Bourke.
Grace and Tom are both godchildren of Prince William.
Royal bridegrooms traditionally choose one or more "supporters" rather than a best man, but Prince William has chosen to give his brother the more informal title.
His father, the Prince of Wales, chose his brothers Prince Andrew and Prince Edward to be his supporters when he married Lady Diana Spencer in 1981.
When news of the royal engagement was announced last year, Prince Harry said he was "delighted".
"It means I get a sister, which I have always wanted," he added.
Royal historian Hugo Vickers agreed the choice of Prince Harry was "completely natural".
"Normally, a member of the royal family has his brothers as his supporters, or joint best men," he told the Associated Press news agency.
"As Prince William has only one brother, and he is very close to Harry, it's an obvious choice."
Joe Little, managing editor of Majesty magazine, said Miss Middleton, at 27, was older than the traditional maid of honour.
"There was a lot of conjecture about her age and whether she might be too old for the role of the chief bridesmaid," he said.
"But considering how close the sisters are, it was really a foregone conclusion."
Related Internet Links
The BBC is not responsible for the content of external sites.