Two British soldiers die in fire at base in Afghanistan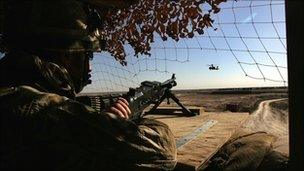 Two British soldiers have died at Camp Bastion in Afghanistan after what is thought to have been a "domestic" fire.
The Ministry of Defence said the deaths of the men, who served with the Royal Logistic Corps, were not thought to have been as a result of enemy action.
Next of kin have been informed. Wing Cdr Martin Tinworth said: "Our heartfelt condolences go out to both soldiers' family and friends."
There have been 356 British deaths on operations in Afghanistan since 2001.
The MoD said "initial indications" were that the deaths were due to a domestic fire at the base in Helmand province, southern Afghanistan.
"The incident is under investigation and more information will be released when known," the statement said.
Wing Cdr Martin Tinworth said: "Both soldiers were involved in vital support work for the UK forces who continue to bring hope and stability across Afghanistan."
The head of UK forces in Helmand has said the troops are feeling increasingly positive that the tide is turning against insurgents in the province.
Brig James Chiswell said: "There's certainly a sense over this winter period that the insurgency is under a lot of pressure, but perhaps more importantly there's certainly a sense of growing local confidence to shake off the insurgency, and indeed to put their trust in the state."
But it would not be known how successful the past few months had been until fighting during the summer had taken place, he added.