7/7 inquests: Plot ringleader said 'people would pay'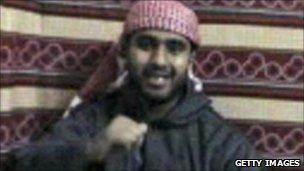 The inquests into the 7 July attacks have heard that the plot's ringleader once said "people would pay for what they had done to Pakistan".
Mohammad Sidique Khan's own brother had also been concerned about the hard-line religious views he was exploring.
But the inquests heard that young people in the Beeston area of Leeds had looked up to Khan because of the quality of his youth work.
Khan was one of four suicide bombers who killed 52 people on 7 July 2005.
On Monday, the inquests began hearing a week of evidence about their backgrounds.
Acting Det Insp Pete Sparks, from the Metropolitan Police, said officers had gathered information about how Khan's religious and political outlook began changing from 1997 onwards.
His brother, also called Mohammad, said his sibling had shown an increasing interest in Wahhabi Islam, the ultra-conservative interpretation of the Muslim faith emanating from Saudi Arabia.
Khan, who was the son of Pakistani immigrants to the UK, had also admitted looking at the extreme religious and political position of Al-Muhajiroun. The group is now banned under UK terrorism laws.
He had also become increasingly distanced from his own family's Islamic traditions, removing himself from the mosque they had long used and choosing his own path, the court heard.
Despite this change in attitude, Det Insp Sparks said Khan had become popular with local youngsters through his youth work and his subsequent job as a learning mentor at a school, taken in 2001.
He was also doing some informal work teaching children about Islam.
In a planning document produced when he was arranging camping trips for local people in 2003, Khan wrote: "Remember that we are representing Muslims and need to break down stereotypes."
But he and fellow bomber Shehzad Tanweer also became heavily involved in setting up the Iqra bookshop in Beeston, which stocked extremist literature. After 2002, it became the centre of his activity.
Det Insp Sparks said Khan had taken a number of his pupils to the bookshop.
After one visit, he told the boy in question - then aged 11 or 12 - that "people would 'pay' for what they had done to Pakistan".
The boy also told police Khan had made reference to the 9/11 attacks.
When DI Sparks was asked whether Khan had been "an extreme influence on the minds of youngsters" - some of whom were made vulnerable by learning difficulties - the detective agreed that he had been.
But he said Khan was described by staff at the school as "very impressive", adding: "There were some single-parent families and he was almost like a father figure to them."
The inquests also heard evidence about another of the bombers, Germaine Lindsay.
They were told he held extremely violent views towards Jews and the British Army, and had even considered joining the military so he could kill his fellow soldiers.
He also tried to spread extremist views among fellow pupils while he was still at school, handing out leaflets in support of al-Qaeda and Osama bin Laden.
Meanwhile, the inquests heard from a police officer who criticised the response of some of his colleagues to the bus bombing in Tavistock Square.
Pc Glen Hesketh said in a statement: "Police officers were putting up cordon tape, and I remember swearing at an inspector or sergeant for not doing anything to help people on the bus.
"It's purely my opinion, but if somebody can be helped, they need to be helped and immediately."
"We're not paid to be wrapped in cotton wool, we have to get in there and help people."
Pc Hesketh, who now works for the Police Service of Northern Ireland, said he cut his hands "to ribbons" trying to pull aside the wreckage of the bus to get to the wounded passengers.
He praised two "marvellous" firefighters for helping him rescue several people, including Mark Beck, who lost his right leg, and Sam Ly, who died a week later in hospital.
The inquests at the Royal Courts of Justice continue.
Related Internet Links
The BBC is not responsible for the content of external sites.