MPs in youth crime warning over funding cut plan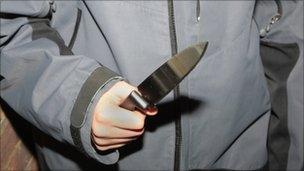 Crime may rise if funding is cut for youth offending prevention projects in England and Wales, MPs have warned.
The House of Commons' Public Accounts Committee said the cost of any reduction in funds was likely to outweigh any short-term savings.
It also warned the government's decision to axe the Youth Justice Board - the body which administers youth justice - could be counter-productive.
Ministers said they were committed to providing more cost-effective services.
The cross-party committee praised the board for its "central role" in reducing the number of 10 to 17-year-olds entering the youth justice system.
But it questioned how a national focus on reducing youth offending could be maintained by scrapping it.
Savings were unlikely to be "significant", it said, at around £6m over four years, or half of one per cent of the Ministry of Justice budget.
The committee's report said: "Cutting prevention funding now increases the risk of the unintended consequence that more crime could occur in the medium term, with the cost likely to outweigh any short term savings."
It found that youths who were imprisoned or given hefty community sentences remained highly likely to reoffend.
The MPs urged the board and Ministry of Justice to encourage investment in prevention.
The board is being abolished as part of the government's decision in October's Spending Review to axe 24 quangos.
The committee's Labour chairwoman Margaret Hodge said: "The reoffending rate for young people who have left custody has fallen only slightly - with three out of four offending again within a year.
"There has also been an increase in the numbers of more serious crimes committed by young offenders.
"Given its decision last year to abolish the Youth Justice Board, it will be for the Ministry of Justice to maintain the national focus on reducing offending by young people and reducing the use of custody.
"It will not help that funding for work to prevent youth crime is being cut."
Related Internet Links
The BBC is not responsible for the content of external sites.