Newspaper review: Papers highlight NHS 'failings'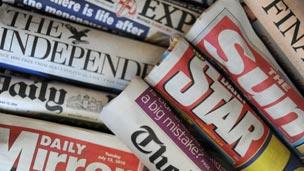 A damning report on the state of NHS care for the elderly is the lead story in several of the quality newspapers.
The health service ombudsman found patients were left hungry, unwashed and with inadequate pain relief.
The paper says the men, all warrant officers, received identical messages to "plan for Civvy Street" - including one from the front line in Afghanistan.
It says the "astonishing" figures will intensify anger over spending cuts.
It says customer "footfall" in shopping centres in these areas is sharply down as customers "tighten their belts".
Finally, Prince William's choice of his brother Harry for best man is applauded in many of the papers.
Related Internet Links
The BBC is not responsible for the content of external sites.