Newspaper review: Papers highlight NHS 'failings'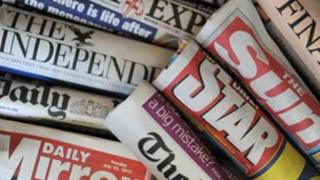 A damning report on the state of NHS care for the elderly is the lead story in several of the quality newspapers.
The health service ombudsman found patients were left hungry, unwashed and with inadequate pain relief.
The Times says spot checks on how the elderly are treated will begin "within weeks" but fears "structural deficiencies" will remain unchallenged.
While the Independent claims the NHS remains focused on the interests of staff not those of the patients.
Civvy Street
The Sun leads with its report that 38 soldiers learned they were the latest victims of defence cuts - by e-mail.
The paper says the men, all warrant officers, received identical messages to "plan for Civvy Street" - including one from the front line in Afghanistan.
The Daily Mirror also criticises the Ministry of Defence for paying senior civil servant Bernard Gray a salary and bonus of up to £250,000 a year.
The Daily Telegraph notes that he earns more than the prime minister.
'Belt tightening'
The Daily Mail tells us a "substantial" number of council leaders are paid more than £50,000 a year, while councillors often enjoy benefits of £20,000.
It says the "astonishing" figures will intensify anger over spending cuts.
The Financial Times, meanwhile, reports that public sector cuts are having a disproportionate effect in the north of England and Northern Ireland.
It says customer "footfall" in shopping centres in these areas is sharply down as customers "tighten their belts".
Party prince
Finally, Prince William's choice of his brother Harry for best man is applauded in many of the papers.
The Daily Mirror says Harry the "party animal" will be "well qualified" to organise a stag night.
While the Daily Mail reminds its readers of his suitability for the task by reprinting a photo of him emerging, bleary-eyed, from a Soho nightclub.
All agree with the Daily Express, that the younger prince will fulfil his duties with "gusto".