Harsh winters threaten barn owls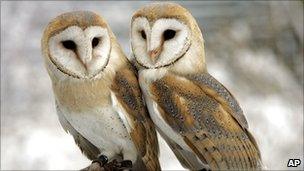 Bird experts say the number of barn owl deaths has risen three fold as a result of harsh winters.
More than 100 of the birds were found dead across the UK in December alone - three times the number ornithologists would expect.
They say the birds face extra dangers apart from the cold, including traffic and rat poison.
And they say if harsh winters continue the species could go into decline in the UK.
David Ramsden, from the Devon-based Barn Owl Trust, said the poor weather the country experienced over the past two winters had affected the birds' survival rates as they were not built for cold weather.
"Barn owls evolved in a much warmer climate than we have in the British Isles.
"They need to be light so they can hunt from the air - other owls can just walk about and pick up earth worms.
"So they don't have an ability to store a lot of fat, and they're not very well insulated."
In the UK many different kinds of birds have rings attached by experts so conservationists can estimate how many there are, and where they live.
In the December of last year 104 ringed barn owls were found dead in different parts of the country - indicating the mortality rate was running at three times what it would usually be at that time of the year.
"If they only had to deal with severe winters they would cope very well," said Mr Ramsden. "But there are so many other factors working against them."
A quarter of the hatchlings die on the roads.
And the experts think rat poison could be a factor in low survival rates. A recent analysis of dead barn owls revealed that more than 80% had blood-thinning agents in their bloodstreams.
Now the charity is concerned about the possibility of spring snow which would be an extra problem for the species.
"The numbers will be low now. We've had two harsh winters in a row and in between those we've had two of the worst breeding seasons that have ever been recorded," said Mr Ramsden.
The average brood size last year was below average, with breeding pairs producing two rather than three chicks.
The charity is hoping for a run of good breeding seasons with nests containing more than three birds and some some mild winters to return to the UK normal population of about 4,000 breeding pairs.
Related Internet Links
The BBC is not responsible for the content of external sites.