7/7 inquests: Bomber Shehzad Tanweer's girlfriend weeps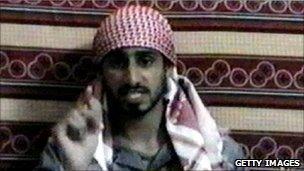 The secret ex-girlfriend of one of the 7 July bombers has cried as she revealed how she thought he had loved her - while he deceived her all along.
The witness, giving evidence anonymously, told the inquests into the 2005 attacks that she thought she had a future with Shehzad Tanweer.
The inquests heard that the pair's close but not intimate relationship had been conducted in almost total secrecy.
Tanweer and three other bombers killed 52 victims in London in 2005.
The bombers targeted three Tube trains - at Aldgate, Edgware Road and Russell Square - as well as a bus.
Tanweer last saw the woman days before the attacks and said he was going to Scotland for a few days.
The woman, known only as Witness A, gave evidence to the inquests via video link from an undisclosed location.
Speaking in short, halting sentences, she told the coroner, Lady Justice Hallett, how she had conducted her clandestine relationship with Tanweer in two stages.
The pair began meeting in vehicles "slightly before 2003" and would talk about each other and whether they had some kind of future together.
At the time, Tanweer would have been between 17 and 18 years old.
The relationship then ended because of a change in circumstances that was not explained in court.
But the relationship began again in early 2005 after Tanweer had returned to the UK from Pakistan.
Police believe that Tanweer and ringleader Mohammed Sidique Khan received bomb-making training during their trip to Pakistan in the winter of 2004-05.
The court heard how Tanweer sent a text message to the woman and said that he was planning to move to Dubai in August.
Witness A said that it had been a shock to hear from him but the relationship was rekindled and they soon met.
Hugo Keith QC, counsel to the inquests, asked Witness A what stage the relationship subsequently reached.
"I got a good vibe from him, that he loved me," she said.
"Did he express a wish to spend more time with you and in particular to share some sort of future together?" asked Mr Keith.
"Yes," replied Witness A.
During this period, the bombers were accelerating their plans for the London attacks - but by June Tanweer had begun to meet the woman twice a week, still in secret.
"I felt that our feeling had got stronger," she said. "I could certainly speak to that on my part."
A tearful Witness A then told the court how Tanweer had arranged a secret liaison in a hotel on 1 July, six days before the attacks.
The pair spent the night together and talked about their future.
They were "close" but not physically intimate, the inquest heard.
Tanweer was his usual self and did not give any indication of his real plans.
He then told her that he was going to Scotland and would be back the following Saturday - two days after the subsequent attacks.
The pair exchanged some more calls and messages, the last being on 4 July.
"You must have been as shocked as everyone else by what he did?" said Mr Keith.
"I was, yes," she replied.
"Not only were you the subject of a gross deceit, but you have had to keep the knowledge to yourself these many years," he said.
Earlier, the inquests heard that police failed to chase up their "best lead" after a suspected armed robbery which could have led them to bomber Germaine Lindsay weeks before the terror attacks.
Lindsay was linked to an alleged gun crime in May 2005 but inquiries were "left outstanding".
Police identified him as the owner of a red Fiat Brava seen leaving the scene but this was never fully followed up.
Related Internet Links
The BBC is not responsible for the content of external sites.