Egypt travel advice to Luxor relaxed by Foreign Office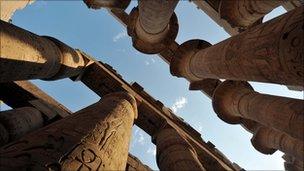 The Foreign Office has updated its travel advice for British citizens going to Egypt.
Officials now advise it is safe to go to Luxor, one of the most popular tourist destinations, based on "the improved situation on the ground".
There is also more relaxed advice for travel to Cairo, Suez and Alexandria.
Egypt's army is in control of an interim government, after two weeks of massive protests forced President Hosni Mubarak to step down.
The Foreign Office had advised against all but essential travel to Luxor but it now says the situation in Luxor is calm and the city is functioning normally. Thousands of visitors go there every year to see the royal tombs in the Valley of the Kings, and the Temple of Karnak.
Britons are still advised against all but essential travel to Cairo, Alexandria and Suez, which saw some of the biggest protests against President Mubarak.
The Foreign Office says "We assess the situation there is different to Luxor and subject to sudden change."
British nationals in those cities are no longer being advised to leave by commercial means.
The Red Sea resort of Sharm el-Sheikh remained calm throughout the crisis, and Britons have not been advised to avoid it.
Related Internet Links
The BBC is not responsible for the content of external sites.