William Hague and Sergei Lavrov unveil hotline plan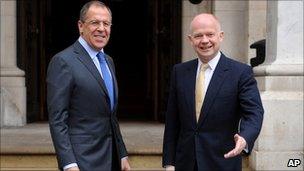 British Foreign Secretary William Hague and his Russian counterpart Sergei Lavrov have unveiled plans for a new hotline.
The link will upgrade communications between the two countries and ministers hope relations will begin to improve after a series of damaging rows.
At a joint press conference, Mr Hague admitted that the UK and Russia "don't always see eye to eye".
"But it shouldn't stop us from working together," he said.
The meeting between Mr Hague and Mr Lavrov follows a period characterised by rows.
The lowest point in recent years was reached in 2007 when a former KGB officer, Alexander Litvinenko, died of radiation poisoning in a London hospital.
An intelligence agreement between Russia and the UK was then broken off when the Russians refused to extradite a suspect in his killing, another former KGB officer, Andrei Lugovoi.
Mr Hague said both sides wanted to see an improvement in relations but it was going to take time.
He confirmed that the two men had discussed possible co-operation on organised crime and counter-terrorism, but had not reached any agreement.
"These issues do require further work by officials," he said.
Mr Lavrov said economic links between Russia and the UK were "on the rise" and pointed to the recent agreement between the Russian petroleum giant Rosneft and BP.
Work was continuing to simplify visa arrangements between the two countries, he added.
Prime Minister David Cameron is due to visit Moscow later this year.
The hotline announced by the two countries is a secure encrypted link rather than a separate room with a phone in it.
It will allow officials and ministers up to the level of the prime minister to get in touch swiftly with their Russian counterparts, and vice versa.
Mr Hague said the modernising of the link was not a sign of increasing tensions.
"This is not in any way a sign that we are returning to a Cold War mentality," said the foreign secretary.
"It is about modernising an important communication link for a modern relationship."
Related Internet Links
The BBC is not responsible for the content of external sites.