RAF to axe a third of trainee pilots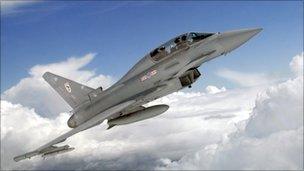 The RAF is to reduce the number of trainee pilots by a third and freeze recruitment because of the defence cuts, the Ministry of Defence has said.
It confirmed 170 of its 512 trainees would be cut from sites at Cranwell in Lincolnshire, Shawbury in Shropshire and Linton-on-Ouse in North Yorkshire.
The BBC learned on Monday that up to 50 students flying multi-engine aircraft at Cranwell would face redundancy.
The MoD said the job losses would have no impact on operations.
In a statement on Tuesday it said: "Due to the reduction of the RAF's aircraft fleet the number of student pilots in the Flying Training Pipeline will be reduced by up to 170.
"There will be some redundancies but we will, where possible, consider alternative roles for these trainees.
"We can confirm that there will be no RAF intake of new student pilots in the financial year 2011-12."
News of the job losses followed a visit to RAF Cranwell on Tuesday by Air Vice Marshal Mark Green.
On Monday the MoD said last year's strategic defence and security review (SDSR) had already outlined cost-cutting measures in the forces.
Some 42,000 defence jobs are to be cut by 2015 - including 25,000 civilian staff at the MoD, 7,000 in the Army and 5,000 each at the Navy and RAF.
Captain Mark Searle, who chairs the British Airline Pilots Association (Balpa), said news of the cuts should ring "alarm bells".
Balpa said it would step up help it gives to its military members.
Update: This story has been amended in the light of information clarifying the total number of students on the RAF pilot training programme.
Related Internet Links
The BBC is not responsible for the content of external sites.