Newspaper review: Next interest rate move contemplated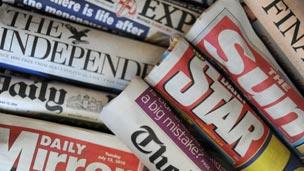 The newspapers carry a mixed bag on Wednesday with none of the front pages leading on the same story.
With inflation now standing at 4%, the papers contemplate the Bank of England's next move on interest rates.
It says the fine was issued in Ecuador and questions whether the oil firm will actually end up paying anything.
Birdwatcher Steve Akers spotted the bird in his garden in Chipping Norton - then charged £5 a time to see it.
It says those who engage in other tasks pay more attention to the road, and that some distraction helps bored drivers stay focused.
Related Internet Links
The BBC is not responsible for the content of external sites.