Newspaper review: Next interest rate move contemplated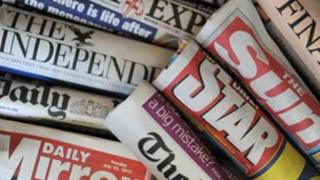 The newspapers carry a mixed bag on Wednesday with none of the front pages leading on the same story.
The Times says moves allowing rapists and paedophiles to challenge being put on the sex offenders register for life will anger Conservative MPs.
The Daily Mail says hospital trusts on Merseyside could use trespass laws to evict elderly patients blocking beds.
And the Daily Telegraph tells us baby-boomers may have to use their own wealth to fund care in their old age.
Mortgage trouble
With inflation now standing at 4%, the papers contemplate the Bank of England's next move on interest rates.
The Daily Telegraph argues that a rise in the cost of borrowing would take the heat out of inflation before it feeds through into wage demands.
The Times points to a rate rise, saying inflation deters investment and is a tax on everyone.
But the Daily Express concludes that any rise now could catapult millions of mortgage payers into financial trouble.
Pregnant soldier
The Independent reports that the giant US oil corporation, Chevron, has been fined more than $8bn for polluting a swathe of Amazon rainforest.
It says the fine was issued in Ecuador and questions whether the oil firm will actually end up paying anything.
The Sun reveals a UK soldier served on the front line in Afghanistan even though she was seven months pregnant.
The Financial Times says city workers earning more than £150,000 a year are to be exempt from the immigration cap.
Early birds
The Guardian is among many papers to report the arrival of a rare oriental turtle dove to the UK, which led twitchers to descend on Oxfordshire.
Birdwatcher Steve Akers spotted the bird in his garden in Chipping Norton - then charged £5 a time to see it.
The Times said only "the early birds" got to see it because after the first 10 twitchers arrived, it flew off.
Finally, the Daily Telegraph reports on a study which claims drivers who talk on the phone could actually be safer behind the wheel.
It says those who engage in other tasks pay more attention to the road, and that some distraction helps bored drivers stay focused.