London Olympics: Final cost to taxpayers 'uncertain'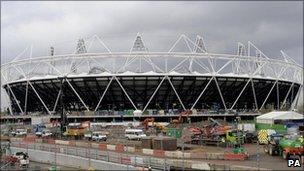 The final taxpayers' bill for London 2012 is "inherently uncertain", a spending watchdog has said.
The National Audit Office's report said while the responsibility for important costs including Olympic venue security had been resolved, the contingency fund was down from £2,747m to £974m.
It also said timings were tight for the handover of the aquatics centre in July and the athletes' village next January.
All other Olympics projects were likely to be completed on time, it added.
Some £9.3bn of public sector funding, including cash from central government, London authorities and the National Lottery, will pay for the Olympics, to be hosted in east London in July and August 2012.
Amyas Morse, head of the National Audit Office, said: "Good progress is being made in the preparations for the 2012 London Games which will begin in 17 months.
"However, the final cost of the Games to the taxpayer is inherently uncertain and as the Games near there will be less flexibility to make savings in response to any unforeseen financial pressures."
With almost 80% of the Olympic Delivery Authority's construction programme completed and all known areas of uncertainty resolved, risks have been reduced, the report said.
However, it warned that the Government Olympic Executive, which oversees the whole 2012 project, should have a plan in place in case the remaining contingency fund is not big enough to cover unforeseen extra costs.
It also suggested the executive body - accountable for the success of the legacy - should spell out the net benefits for the UK of hosting the Games, and work out who would monitor the delivery of the legacy once the executive is disbanded after the Games.
Sir Robin Wales, mayor of the east London host borough of Newham, suggested that "alarm bells should be ringing" over legacy planning during a time of widespread cuts.
"If this government fails to plan for a meaningful legacy, then the Games will be nothing but a vanity parade - and that would be a disaster given the amount of public money already ploughed into staging the Olympics.
"The Olympic Park Legacy Company has been doing great work but it's evident from the report that the Government Olympic Executive now needs to get a grip on just how important the legacy is for east Londoners."
A spokesman for the Department for Culture, Media and Sport said: "The government has worked hard with Olympic organisers to finalise costs and funding responsibilities to deliver savings and reduce risk, helping to keep the programme on time and within budget."
Related Internet Links
The BBC is not responsible for the content of external sites.