Royal wedding: Rise of the wedding planner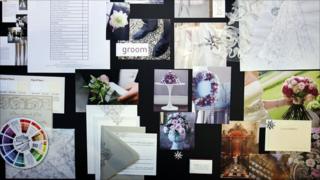 Few weddings will be as prestigious as that of Kate Middleton's to Prince William, but it's not just the royal couple who are turning to professional help to organise their big day. As weddings become more elaborate and ambitious, couples are hiring planners to help realise their dreams.
As many couples that have embarked upon the journey into marital bliss have found, few people are fully prepared for the flurry of activity that follows an engagement.
First there is the family feeding frenzy - the metaphorical cake that everyone wants a bite of. Then there is the actual wedding cake, the ordering of which comes somewhere after the venue, date and band is booked but before the wedding invitations are sent out and the table plan is tampered with.
With happy-ever-after fast becoming a whirlwind of wedding worries, some couples are calling on paid-for help - in the shape of a professional wedding planner.
Prince William and Kate Middleton are unique in having the luxury of the Lord Chamberlain's office on speed dial - who better to reserve a major central London place of worship, and close off some of the capital's biggest tourist attractions for their cortege to pass through? With just six months from engagement to altar, their team of organisers will be working flat out.
But as weddings become more elaborate, and more of an individual statement, non-royals are calling on the services of a small but growing band of experienced wedding planners to help realise their hopes.
Yet if weddings are essentially public displays of personal intimacy, why are couples opting to outsource the organising of their special day to a third party they've probably never met before?
British wedding planner and author of The Wedding Bible, Sarah Haywood, says her role is to make a couple's big day "run like clockwork".
"We can do everything couples want, from coming up with a wedding look, finding beautiful designs for stationery and menu tasting, to acting as a concierge service, sorting out transportation and hiring security," she says.
"Wedding planners know where to go, can narrow down choices and have connections with suppliers so get good deals," she says.
The couples are consulted at every stage, she says, so it is not a case of handing over total responsibility.
"Hiring a wedding planner is like hiring an interior designer, they are able to translate your vision. It's not rocket science but more of a hand-holding experience - if you can afford it, it is the sensible thing to do."
£40k-mark
The question of affordability is an important one.
While the average British wedding now costs £15,000 to stage, that's a pretty paltry budget for most wedding planners, says Thea Darricote, executive retail editor of Brides magazine.
A wedding planner really only becomes value for money for those looking to spend £40,000, says Ms Darricote. Of that, the planner can expect to take a 15% cut, she says.
But isn't the rise of the wedding planner as much a result of a growing identification with celebrity culture as it is of cash-rich, time poor couples looking for a little help?
Celebrity weddings, and today's ubiquitous glossy magazine spreads of photos featuring the nuptials of footballers and soap stars, are inevitably shaping ideas of what a perfect wedding should look like.
Ms Darricote admits there is a tendency for couples to feel the weight of the "once in a life time" wedding.
"There is a personal and social pressure on weddings - but rather than it be a spectacular show of wealth like the Beckhams' wedding, it is more about being thoughtful and tasteful with touches like a great band or wonderful wine," she says.
It's all very different from the way weddings used to be, says social historian Juliet Gardiner.
"In the 1930s, people lived at home, got engaged and started saving for a home. The bottom drawer was linen, towels and sheets. The wedding - in a church or registry office - was followed by the wedding breakfast, typically in the church hall, with tinned salmon and lemonade."
Today's occasions, she senses, are a result of peer pressure and people liking to put a much more "independent" stamp on them.
In the movies
Weddings expert Kelly Chandler, from the UK Alliance of Wedding Planners, says some of this is down to the fact couples are marrying later in life - when they have more spending power. She adds to that the influence of US films such as The Wedding Planner and Confetti.
Laura Humpries' nuptials sound like the sort of occasion that would befit a Hollywood star. When the 40-year-old marketing director tied the knot eight years ago, she called on the services of a wedding planner.
"I was getting married in November but wanted to get married in the sunshine, so was a bit stumped. All I knew is I wanted the day to be fun, a party."
She says the wedding planner's team had "mind-boggling attention to detail" but she always felt like she was in the driving seat.
"We had long meetings in London, about two or three times a week. They asked how I felt about belly dancers, fire eaters, acrobats, and suggested things like a camel safari.
"I chose the colours and had the final say on food and wine - but left other things in their hands, which took the stress out of it, and allowed me to concentrate on what I was wearing and what I looked like."
The end result saw 80 people fly out to an exclusive set of villas in a party hot spot in Marrakesh for a long weekend in 2003. It was, simply, "out of this world", but that, she says, was because she had total faith in her wedding planner.
Prince William and Kate Middleton's nuptials may be more traditional, but with an expected TV audience of more than a billion, its success or failure as a public occasion will in no small part be down to the organising skills of their wedding planners.